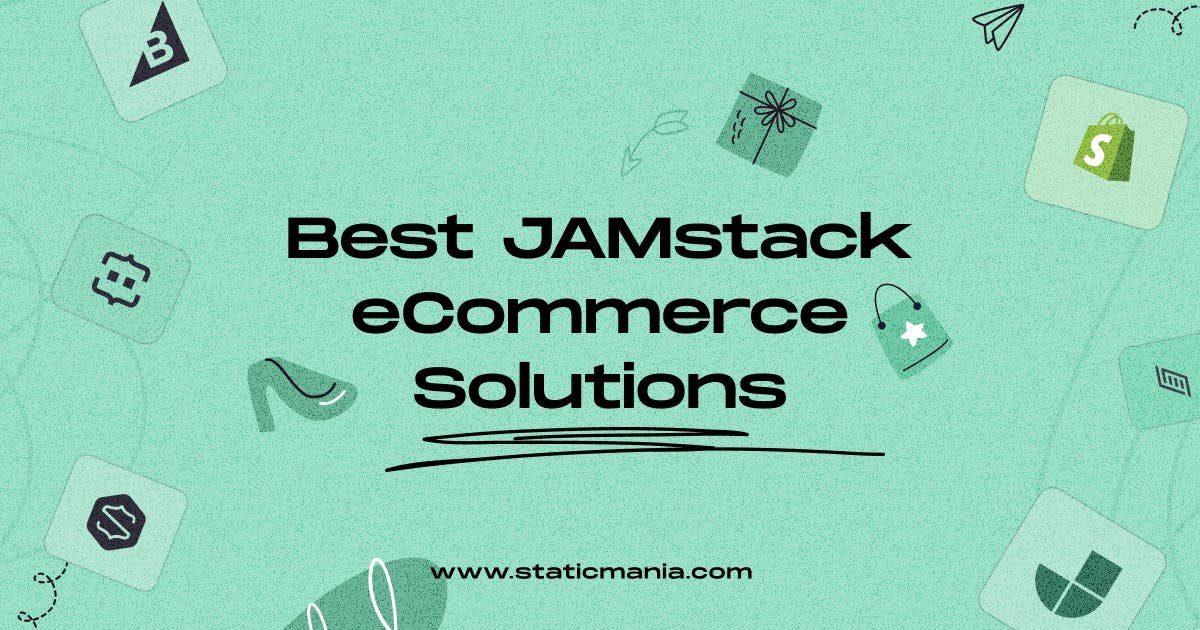 Best JAMstack eCommerce Solutions (Expert Choice)
Nusrat Sarmin
January 23, 2023
If you are looking for the best Jamstack eCommerce Solutions available in the market, this guide will help you with your research. Then what are you waiting for? Let's go!"
Netlify co-founder Mathias (Matt) Biilmann first introduced JAMStack in 2015, and since then, it has been continuously gaining popularity. This stack provides many advantages over other web development stacks. Decoupling the front end from the back end benefits both developers and end users. Developers get the room for innovation, and users get satisfactory performances. 
JAMStack works for all types of websites, including advertising, marketing, media, financial services, healthcare, personal websites, b2b software, and e-commerce purposes. Certainly, JAMStack is going to be the future of the web.
Particularly, the eCommerce industry is seeing rapid adoption of JAMStack architecture for excellent performance, sophisticated UX/UI, easier scaling, security, and enhanced SEO. More and more entrepreneurs are adopting JAMStack for eCommerce stores as a concrete solution.
According to the 2022 Jamstack community survey, e-commerce is the 4th most popular use case of this architecture; 38% of JAMStack websites are built for eCommerce businesses.
Is Jamstack an Ideal e-Commerce Solution?
The Jamstack provides a great foundation for building fast and secure eCommerce sites. JAMStack enables a composable architecture for the web where custom logic and 3rd party services are consumed through APIs. Headless eCommerce platforms like Shopify and BigCommerce support JAMStack eCommerce with built-in feature-rich and comprehensive Storefront APIs. Businesses are able to combine custom code and external services through APIs.
Pros of JAMStack eCommerce
With the power of the latest JAMStack technologies, you can build your online business with pleasure, allowing you to increase your sales with a fast and engaging shopping experience.

JAMStack eCommerce provides all the advantages to flourish: incredible Speed, top-notch Security, scalability, faster time to market, Omnichannel marketing, lower costs, better dev experience, etc.

Today's eCommerce market requires the freedom to build personalized and unique experiences to increase conversions. The JAMStack headless commerce strategy does not limit you to specific technologies nor limit you to developing only a single kind of customer experience like traditional monolithic solutions. The separation of the front end and the back end allows unlimited customization without disrupting the underlying infrastructure.
Cons of JAMStack eCommerce
No database dependency means faster speed and more security. However, it makes content editing slower. After any changes, it needs to rebuild the entire page. Updating and previewing changes can be time-consuming. Fortunately, JAMStack engineers are working towards resolving this issue.  

JAMStack is designed to boost developers' productivity in mind. However, it is not non-developer-friendly. You can't customize or add any feature without the help of a developer because it doesn't support plugins like other CMSs. Any changes need coding, which adds extra time and effort.

Various e-commerce platforms are available to work with the Jamstack architectural model. Here is a list of handpicked e-commerce platforms for JAMStack to provide you with the best possible options.
Best JAMStack eCommerce Solutions at a Glance
Commerce Layer
Snipcart
Shopify Plus
BigCommerce
Crystallize
Foxy
Saleor
Commerce Layer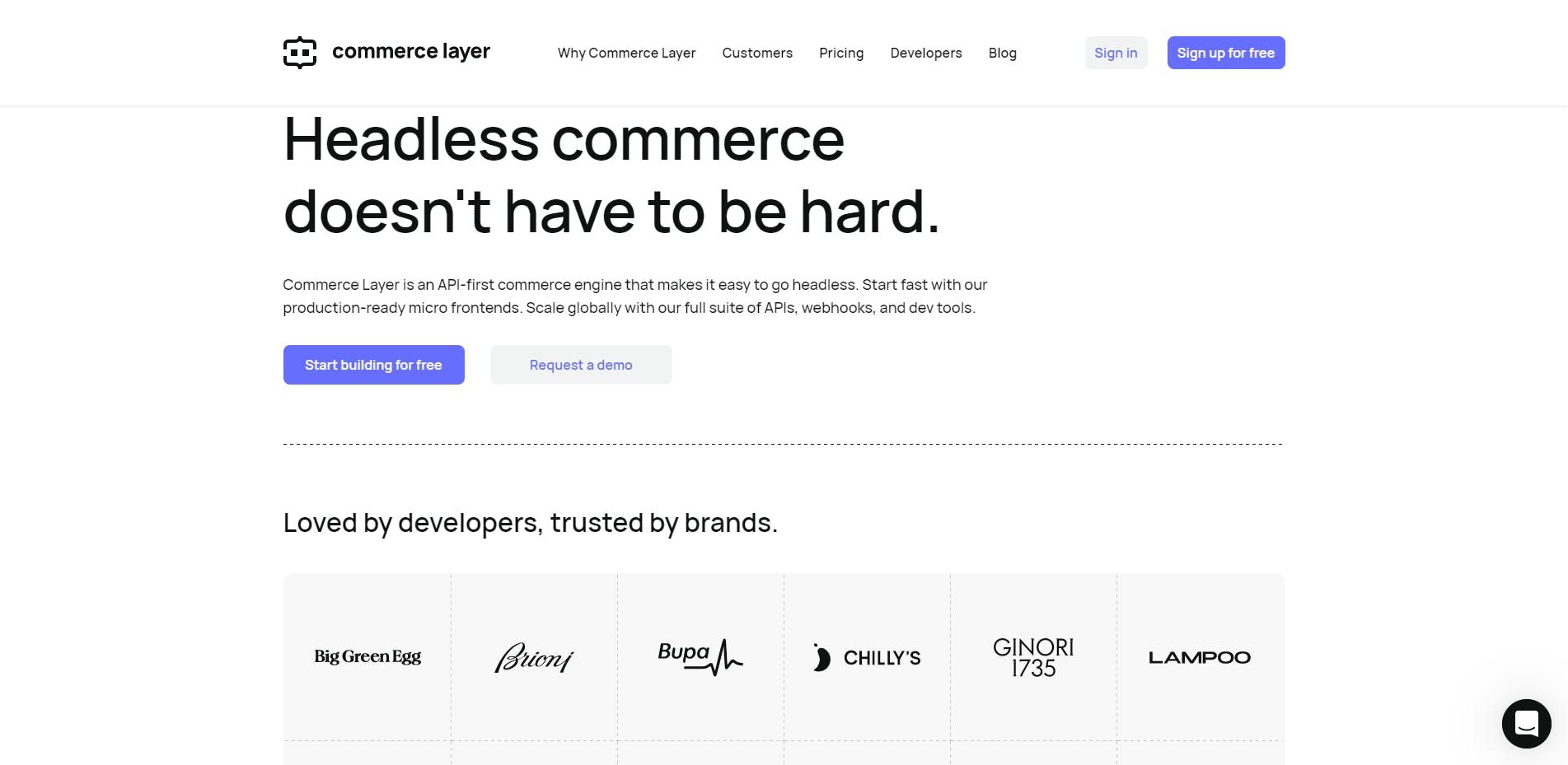 Commerce Layer is an API-first eCommerce service that works impeccably with JAMStack sites. It's a great platform for creating headless eCommerce stores for enterprise-grade businesses that trade internationally.
Commerce Layer is a highly versatile tool perfect for building state-of-the-art eCommerce sites & apps from scratch, adding shopping carts, integrating POS software, order management, selling through IoT devices, etc.
With Commerce Layer, businesses can quickly launch an online store with all the features they need, including product catalogs, payment processing, order management, shipping integrations, and more. The platform also offers powerful analytics tools so businesses can track customer behavior and optimize their stores for maximum success.
Notable Features:
Provides a set of micro frontends (MFEs) that handle the main e-commerce functionalities, prices, availability messages, shopping cart, and more. 
Hundreds of API resources and webhooks
Commerce Layer CLI makes it easy to handle all API resources, webhooks, bulk import/export data, checkout, process orders, and more straight from the terminal.
Highly customizable
Works with most SSGs and CMSs.
Trusted by popular brands such as Brioni, Big Green Egg, Bupa, Ginori 1735, etc.
See more details on the Commerce Layer website.
Snipcart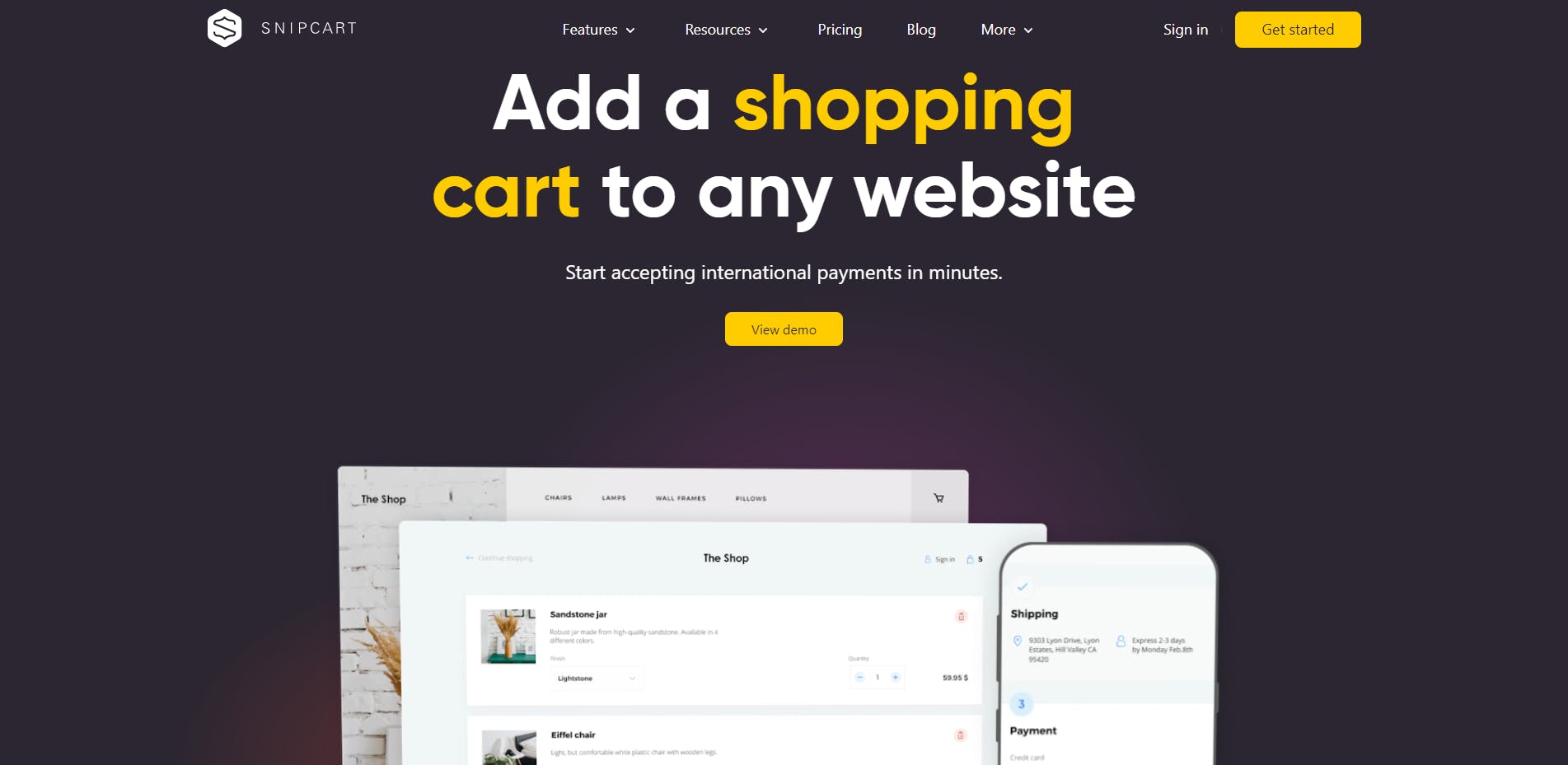 Snipcart is an easy-to-use shopping cart solution. Developers can quickly add Snipcart to any website with just a few lines of code. It allows adding eCommerce functionality to an existing application or website. And you will get a fully functional shopping cart up and running in minutes.
Once integrated, merchants can start selling products immediately without worrying about complex coding or design elements.
Snipcart offers a wide range of features that make it easy to manage orders, simple customer dashboards, shipping integrations, abandon cart campaigns, merchant dashboards, invoicing, tracking inventory levels, setting up discounts or promotions, and more. 
Furthermore, Snipcart provides detailed analytics so merchants can track their sales performance over time and make informed decisions about their business.
Notable Features:
Installable with a simple HTML/JavaScript-based snippet
Platform agnostic and compatible with any website platform.
Requires minimal development knowledge such as HTML, CSS, and JavaScript, making it accessible for both technical and non-technical users.
Provides a secure e-commerce environment for merchants and customers 
Enables the process of multi-currency transactions 
Trusted by popular brands such as Ingmarson, Research Square, Travelink, US Wheel, etc
See more details on the Snipcart website.
Shopify (Plus)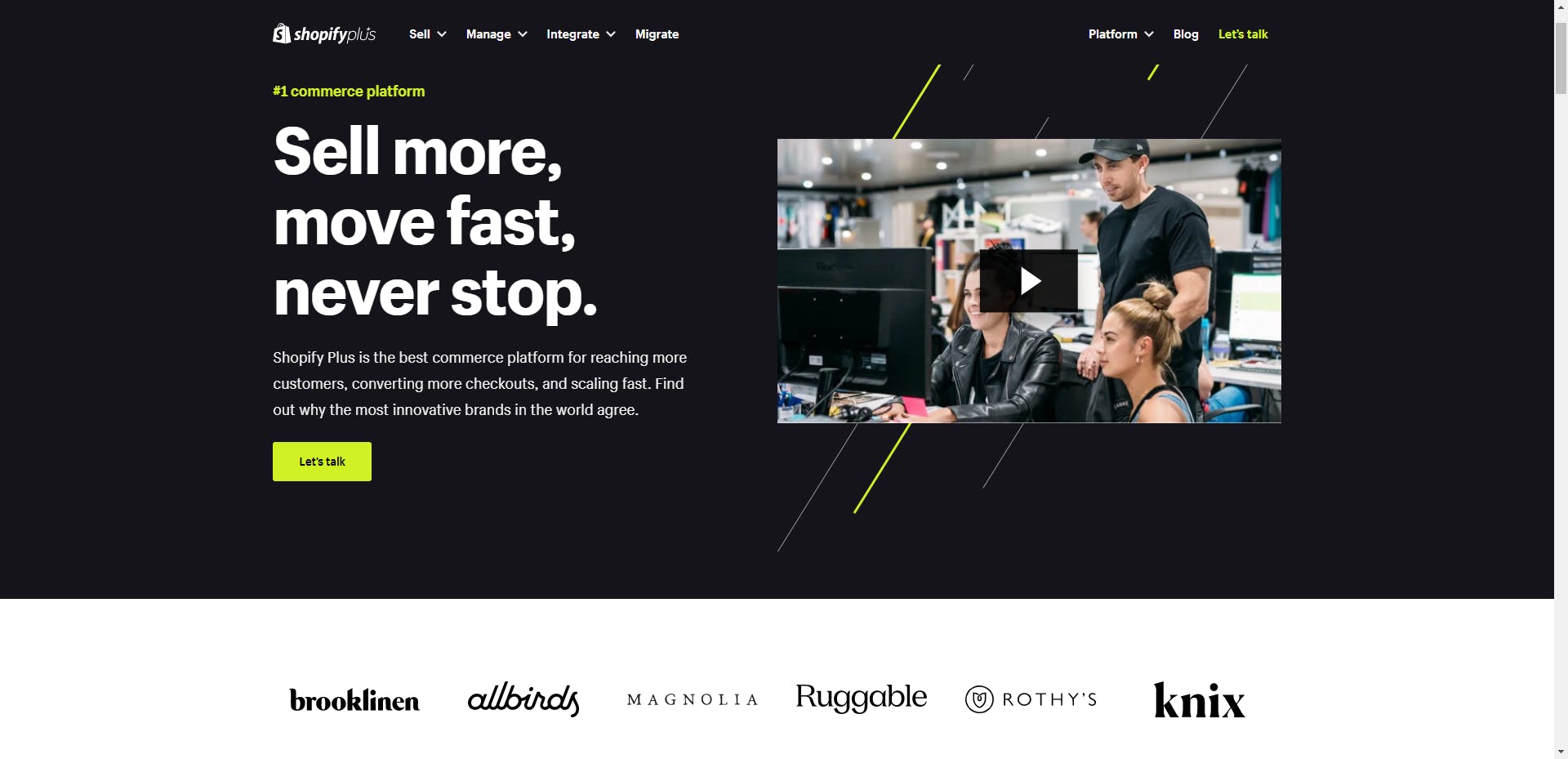 Shopify - this brand name resonates with the term eCommerce & its popularity speaks for itself. It is the Biggest Name in the U.S. eCommerce Software Market. 
DemandSage statistics show over 4.4 million websites globally use Shopify as of 2023.
Shopify introduces Shopify Plus and its Storefront API for headless commerce.
It integrates ERP, PIM, CRM, leading CMSs systems,s and front-end frameworks. hence
Shopify Plus allows adding a shopping cart experience on any website, app, even video game, and other platforms with the Storefront APIs. 
Shopify APIs use GraphQL enabling users to build and design fast, create carts, product configurations, checkout, and more.
With the help of numerous resources, guides, tools, and an extensive Shopify Plus partner network, you can build a highly customizable headless shop without any hitch.
Notable Features:
Shopify Plus and its Storefront API allow selling across every channel and market—from one dynamic platform.
Offering advanced analytics tools
GraphQL Storefront API powers unique customer experiences
Shopify's official React-based framework, Hydrogen, is a great addition to the headless eCommerce storefront
Centralized data and robust customer insights
The API provides a full spectrum of commerce capabilities, allowing customers to browse products and collections, add items to a cart, and complete checkouts.
Trusted by popular brands such as Staples Canada, Koala, Condor Cycles, allbirds, Heinz etc. 
See more details on the Shopify website.
BigCommerce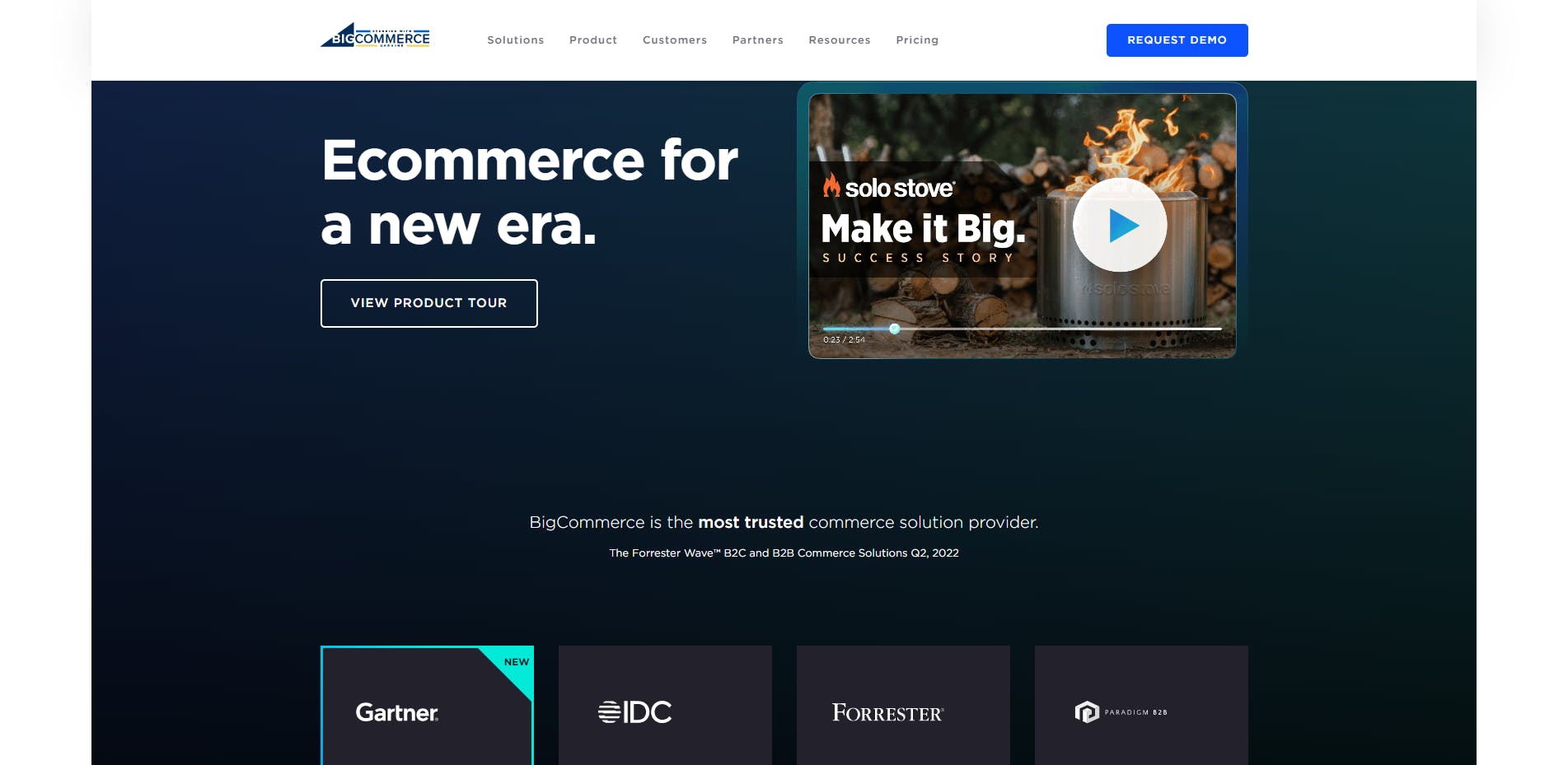 BigCommerce is a cloud-based eCommerce platform that enables businesses to create and manage their online stores without the need for coding. It supports headless commerce, allowing businesses to build custom storefronts using APIs connected to the backend (BigCommerce).
BigCommerce allows you to connect to any front-end network. It also allows businesses to create unique experiences for customers across different channels.
It provides users with tools to design, customize, and manage their storefronts, as well as features such as product catalogs, payment processing, shipping options, and more. 
BigCommerce also offers integrations with third-party applications such as accounting software, marketing automation tools, and customer relationship management (CRM) systems. 
Notable Features
APIs and SDKs available to support your headless architecture
Offers multiple starter apps and pre-built solutions to choose from
API Clients to make API requests in the language of your choice 
BigCommerce plugin delivers headless commerce solution to WordPress 
Support Multi-currency and multi-language
Support Third-party real-time shipping calculations
Popular brands such as Sony, RAZER, Black Diamond, and Airtasker use BigCommerce in their tech stack. 
See more detail on the BigCommerce website about its Headless Commerce solution.
Crystallize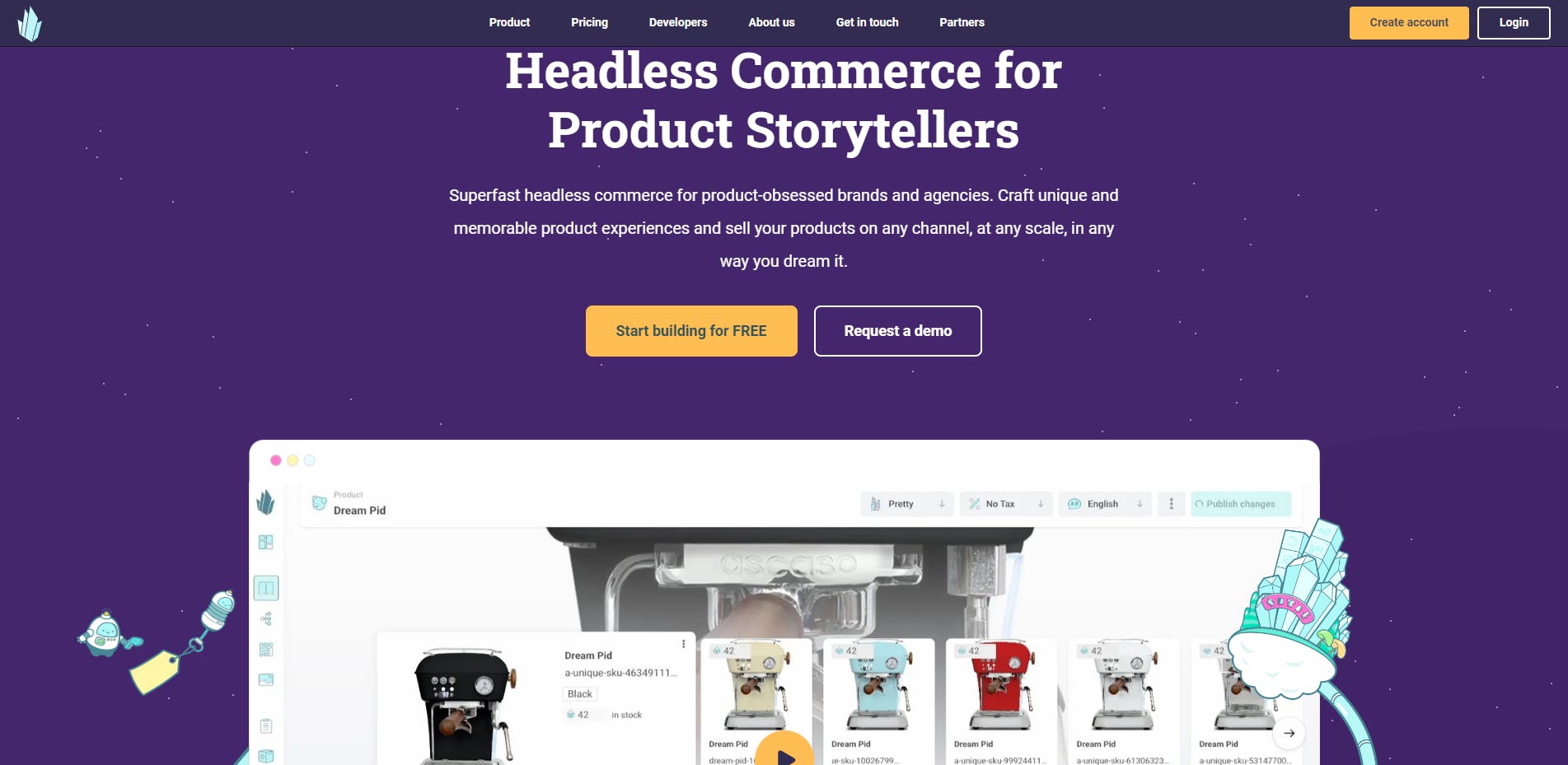 Crystallize's headless eCommerce service is an excellent choice for businesses looking to take advantage of the latest trends in online retailing. It's a great addition to JAMStack's eCommerce reign. 
Crystallize provides a comprehensive suite of tools that make it easy to build headless e-commerce solutions; it facilitates everything from payments, checkout, order management, subscriptions, analytics, and integration with other technologies. 
You can also take advantage of advanced features such as dynamic pricing and product recommendations based on customer behavior. APIs enable developers to integrate with existing systems. And a powerful content management system (CMS) makes it easy to manage product data and create custom storefronts.
Notable Features
GraphQL-based PIM (product information management)
Frontend Agnostic allows you to choose your favorite front-end framework and tech stack.
Webhooks and Superfast GraphQL API powers add-ons & automation
Product Story Engine for well-crafted product modeling and product storytelling 
Support Multichannel & Multi-currency. Enables businesses to reach out across all customer touchpoints and sell globally. 
Track customer behavior for personalization, analytics, and automated marketing campaigns.
Popular brands such as Bertel O. Steen, Loql, etc. use Crystallize in their tech stack. 
See more details on the Crystallize website.
Foxy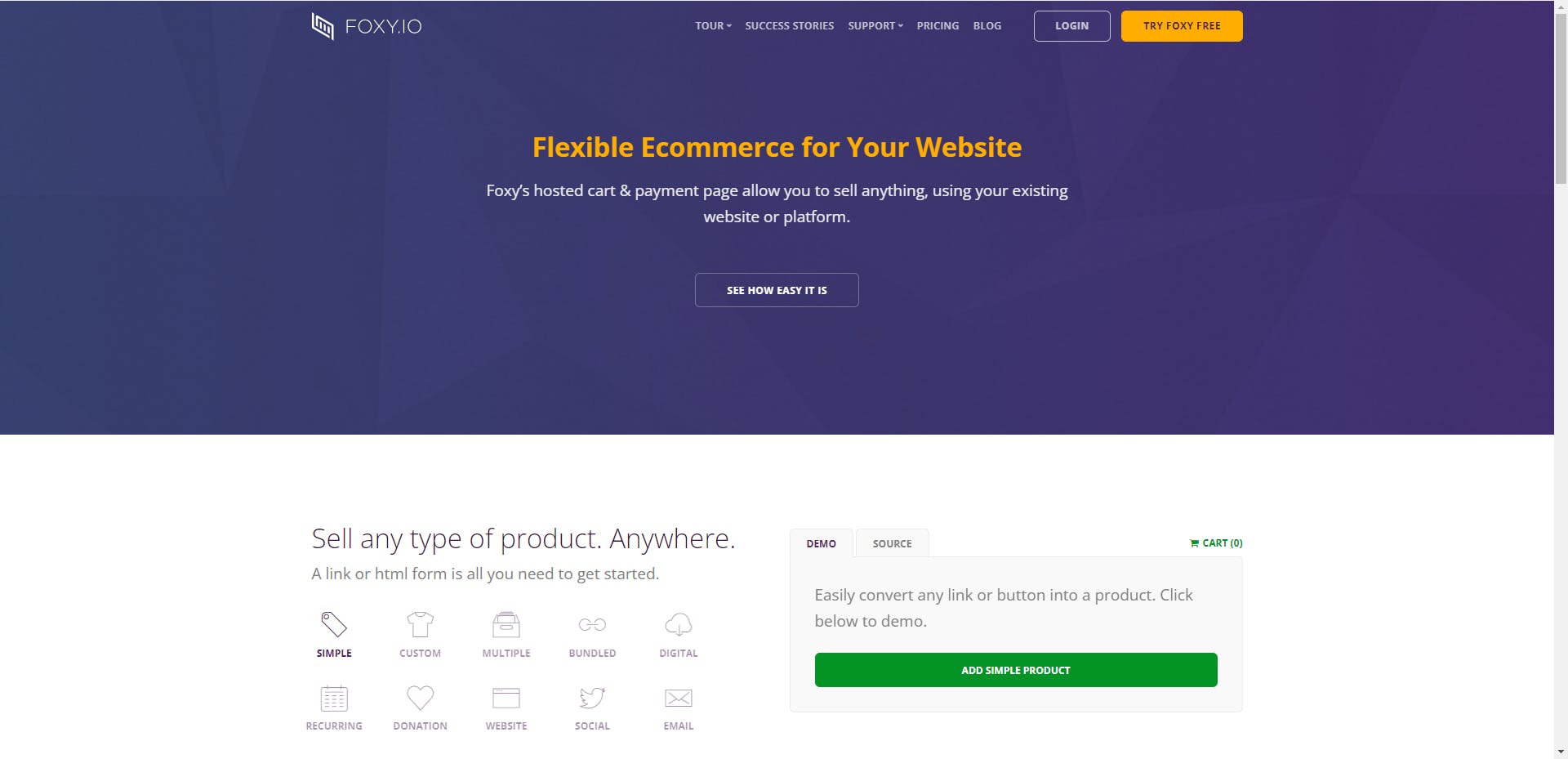 Foxy is a headless eCommerce platform that provides highly personalized shopping cart and checkout processes. Like Snipcart, it enables shopping cart integration for any website with simple code snippets. 
It provides a suite of tools for creating, managing, and optimizing online stores, including payment processing, inventory management, customer relationship management (CRM), shipping and fulfillment, analytics and reporting, and more.
Foxy.io also offers integrations with popular third-party services such as Shopify, WooCommerce, BigCommerce, Magento, Stripe, PayPal, Amazon Pay, Apple Pay, and more. With its easy-to-use interface and comprehensive feature set, Foxy.io is a great choice for businesses looking to launch or expand their online presence.
Notable Features:
Easy integration with HTML and JavaScript. Foxycart meets the needs of advanced developers but is also suitable for first-timers with basic HTML knowledge.
Allows to create and selling both physical and digital products
Powerful analytics tools to track customer behavior, detailed order management capabilities, secure payment processing options, and more.
Cart customization and template-based approach to styling cart & checkout elements.
Flexible taxes & multi-currency, Flexible shipping
Email templating customization
Powerful Hypermedia API (hAPI) & webhooks
Highly Secure and Single Sign On
Popular brands such as BAYER, Absorb, balancegenics, tangeroutlet, locale, etc. use Foxy in their tech stack. 
See more detail on the Foxy.io website.
Saleor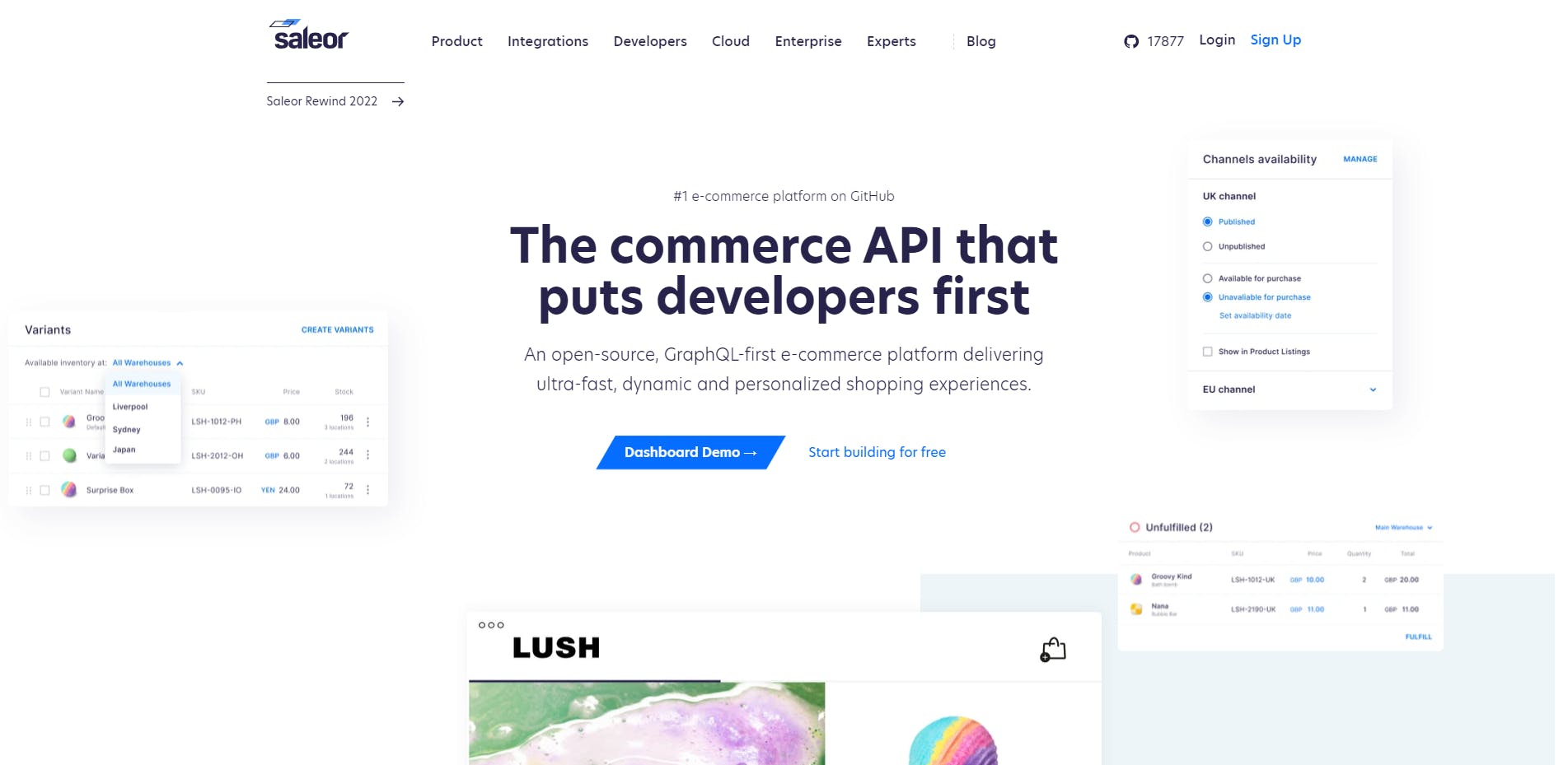 Saleor is a powerful and modular e-commerce storefront built with GraphQL, Django, and ReactJS. It is an ideal eCommerce platform for JAMStack-powered websites.
It offers developers a great experience by integrating the most popular frameworks and languages the JAMStack technology covers. A wide range of features makes it easy for businesses to customize their store according to their needs. It provides a comprehensive set of tools for managing products, orders, customers, payments, shipping, taxes, and more.
Saleor is available on PyPI (Python Package Index) which makes it easy to install and manage the software on any server or cloud environment. 
The platform includes advanced features such as SEO optimization, multi-language support, custom product attributes, discounts and promotions management, analytics integration, and more. 
Notable Features:
Open source and one of the fastest growing headless eCommerce platform
Multi-channel, multi-currency, multi-lingual, and multi-warehouse friendly.
Developer-first allows developers to customize the store's frontend and backend according to their needs. 
Enables to manage of any number of storefronts, apps, and devices from a single back-end.
Extensive Webhooks/PubSub and the GraphQL API integrate your favorite CRM, CMS, shipping, and fulfillment service.
Popular brands such as Mirumee Software, Lush Labs use Saleor in their tech stack. 
See more detail on the Saleor website.
Which eCommerce Platform Is Best for Me? 
You should consider a few key factors when choosing an eCommerce platform for your online store, such as your specific business needs, budget, your team's technical skill, service useability, functionality, scalability, underlying drawbacks, support ability, etc.  
Determine Your Needs: Before you can choose the best headless eCommerce platform for your business, you need to determine what your needs are. Consider factors such as scalability, cost, features, and integrations.
Research Platforms: Once you know what you need from a headless eCommerce platform, it's time to start researching different options. Look at reviews, and pricing and compare features to find the best fit for your business.
Test Out Platforms: Once you've narrowed down your choices, it's time to test out each platform in order to make sure it meets all of your needs and expectations. Try out the demo versions or sign up for free trials if available so that you can get a better feel for how the platform works before making a final decision.
Choose a Platform: After testing out different platforms and comparing them against each other, it's time to decide which one is right for you. Make sure that the platform has all of the features and integrations that you need to run your business successfully.
Quick Recap: Best eCommerce Solutions for JAMStack
Commerce Layer -  API-first commerce engine that makes it easy to go headless.
Snipcart - A simple solution to integrate eCommerce into your Jamstack website.
Shopify Plus - High-performant eCommerce platform excellent choice for shops of all sizes 
BigCommerce - SaaS eCommerce platform great choice for all kinds of online stores
Crystallize -  Latest headless eCommerce platform comes with  Project Information Modelling (PIM) for selling digital and physical products.
Foxy  - Fully customizable e-commerce platform and very similar to Snipcart
Saleor - Open-source platform written with Python, React, Django, and GraphQL and a strong wing for Jamstack
Final Recommendations
The above-mentioned headless e-commerce platform is selected based on expert choice and market research.
Established businesses and brands are proudly utilizing these platforms. Industry experts nominate them as the Best Jamstack eCommerce Solutions based on their popularity, brand value, offered features, community support, and product maturity. 
Generally, all platforms offer the same essential features that benefit eCommerce businesses. But, there can be specific differences among them that may be vital depending on your business type and requirements.
Regardless, the right headless eCommerce solution for you depends on your specific needs. Each platform offers different features and integrations. So it's essential to research and test each one thoroughly to determine which is the best fit for your business. 
There's no doubt: headless eCommerce is the future. Don't wait to make the switch. Get on board as soon as possible and enjoy all the advantages of headless eCommerce.
Note: At StaticMania Blog, the recommended products, services, or technology have been thoroughly reviewed and tested by our technical editorial team. We make sure to provide accurate information about each product's features, so you can make an informed decision when deciding which one is right for you.Heads Up! All the information mentioned in this article is based on the date of publication, so be sure to check back regularly for updates.