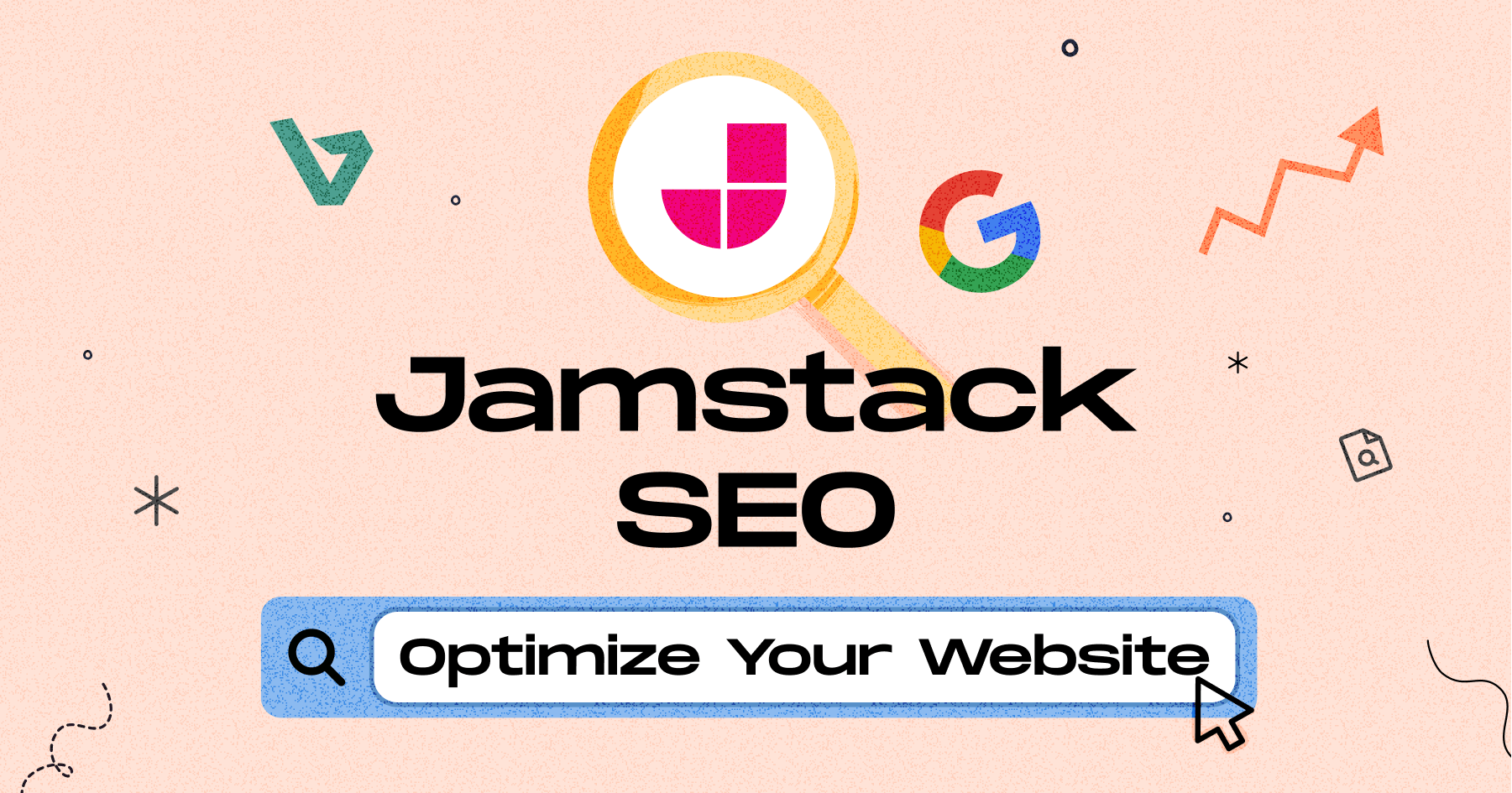 Jamstack SEO: Optimize Your Website
Nusrat Sarmin
March 18, 2023
Do you know that only 0.63% of people click on the results on Google's second page? (*1)
Studies also show that the majority of web users do not browse beyond the first five results in a search list, and more than 70% of clicks are directed toward these top results (*2). Page two is where forgotten content and websites go to die.
Due to these facts, it is immensely important to rank in the top positions for a successful business.
So, the million-dollar question is how to rank on the first page of a Google search. The straightforward answer is that implementing SEO strategies can boost your website's visibility and rankings in the SERP results.
Search engine optimization (SEO) is an important part of running a successful website, regardless of the technology it is built with. Jamstack sites are no exception and can benefit from the same SEO practices that other websites use. In this guide, you will learn about Jamstack SEO and how to optimize your Jamstack site for search engine rankings.
What is Search Engine Optimization (SEO)?
Search engine optimization (SEO) is the process of optimizing your website to increase its visibility and ranking in search engine results. It's a set of processes aimed at improving the quantity and quality of website traffic for targeted keywords. 
SEO includes techniques such as optimizing page titles, meta descriptions, and content for targeted keywords. Ensuring the site is properly structured for indexing by search engine crawlers.
The goal of SEO is to drive more organic traffic to a website by improving its relevance and authority in the eyes of search engines like Google. Search engine bots understand what your website is about so that it can rank higher in search engine results when people are searching for relevant topics. 
SEO also involves off-page optimization tactics such as link-building and social media marketing. Optimizing both on-page and off-page elements can improve your site's ranking in organic search results and drive more traffic to your website.
What is Jamstack SEO?
Jamstack SEO is a type of search engine optimization (SEO) specifically designed for sites built with the Jamstack architecture. The goal of Jamstack SEO is to make sure that your site is optimized to be as visible and relevant in search engine results as possible.
Jamstack sites are growing in popularity due to their speedy performance and scalability. With static content, you're able to easily add meta tags and other structured data that help search engines understand the webpage. 
Along with its built-in SEO qualities, you can optimize both on-page and off-page elements such as content, links, images, and more. 
Optimizing your Jamstack site for SEO gives your Jamstack website the boost it needs! allows you to unlock amazing results with powerful Search Engine Optimization (SEO).
SEO Benefits of Jamstack Technology
Jamstack is a modern web development architecture that utilizes pre-rendered Markup, JavaScript, APIs, and CDNs. 
It is gaining traction due to its many advantages. It provides developers with the ability to create fast, secure, and scalable websites without having to manage complex back-end infrastructure. And when it comes to SEO, there are plenty of benefits associated with using Jamstack.
Improved Performance: Jamstack sites are incredibly fast and able to deliver content faster than traditional dynamic sites. This results in improved user experience and better ranking signals from search engines.
Easier Crawling and Indexing: With Jamstack websites, content is stored in flat files, and no complex server-side code exists. search engine crawlers can access and index pages easily and quickly.  
Enhanced Security: Since there's no dynamic content being served from a server, your website is much less vulnerable to malicious attacks and data breaches. 
What are the types of Jamstack SEO?
As the web continues to evolve, so do the search engine algorithms that power it. SEO is much more than just optimizing pages and implementing keywords these days!
Jamstack provides the perfect SEO-friendly qualities for a website of any size. This web architecture allows you to optimize your website to the highest level and gain a competitive advantage with both SEO and User Experience.
While doing SEO for Jamstack sites, you can divide the job into two main categories…
Technical SEO 
Content SEO
Technical SEO for JAMStack
Technical SEO is a type of SEO that focuses on improving the technical structure of your website. Technical SEO aims to enhance a website's soundness according to search engine technical guidelines. It is a component of on-page SEO and encompasses optimization activities excluding content optimization and link building.

Core Web Vitals
Optimizing the user experience of a website is a crucial part of technical SEO. Core Web Vitals are a set of metrics that Google uses to measure and evaluate a webpage's overall user experience. These metrics focus on the user experience, including page speed, page interactivity, and the visual stability of a webpage as it loads. 
Core Web Vitals results provide measurable metrics that assess how a web page is viewed from the user's perspective. The Core Web Vitals test result specifically shows every element that is affecting the UX.  Thus, it provides website owners with the opportunity to address any technical issues. 
Core Web Vitals are incorporated into Google's algorithm as a ranking factor starting in May 2021, so it's essential for website owners to pay attention to these metrics.
Technical SEO to-do list includes 
Submitting your sitemap to Google
Creating robots.txt file
Identifying and fixing Crawl Errors
W3C Validation for HTML Errors  
Creating an SEO-friendly site structure
URL canonicalization
SSL Certification
Minifying CSS & JavaScript Files
Image Optimization
Mobile Optimization & Testing
and much more
Why Is Technical SEO Important?
Website performance and UX (user experience) are two critical factors of Technical SEO. 
A website with a great UX can increase engagement, reduce bounce rates, and ultimately lead to better organic rankings. 
A website with great web performance can be accessed and crawled by search engines easily, ultimately leading to higher rankings on search engine results pages (SERPs)
Content SEO for Jamstack
Content SEO is the process of optimizing individual pages on a website to rank higher in search engine results pages (SERPs). The goal of content SEO is to make it easier for search engines to understand the relevance and value of your website's content, which in turn increases its visibility and traffic.

Content SEO for a JAMStack can be segmented into two types:
On-page SEO
Optimizing content for SEO in a Jamstack architecture requires careful consideration of various factors, such as:
Keyword Research
Implementing keyword on title, meta description, headings and content 
Short & Precise URL Structure 
Well-researched Content
Use of Subheadings
Unique SEO titles and meta descriptions for every webpage
Using Internal and Outbound Links 
Image alt tags
Off-page SEO
Off-page SEO refers to the activities taken outside of a website to improve its search engine rankings. Such as:
Link-building
Content Marketing
Social Media Marketing
Use of Descriptive and meaningful Anchor text
Jamstack SEO Wind-up
With the growing popularity of Jamstack sites, there's no better time to learn how to use Jamstack SEO techniques. 
Though the main purpose of SEO is to improve a website's organic ranking and traffic flow, when SEO is executed perfectly, it will also optimize UX, CTR, serviceability, and overall performance.
Jamstack sites are well-suited for handling increased traffic loads without compromising performance. Jamstack outranks other web technologies in terms of speed, security, scalability, developer experience, SEO performance, and much more. On top of these, by implementing SEO best practices effectively, you can make the most of your Jamstack site. 
Needless to say, it's important to pursue the technical SEO and content SEO guide for Jamstack to turn the website into a profitable and flourishing digital entity. Remember to regularly analyze your site's SEO performance and make necessary improvements to stay ahead of the competition. Happy optimizing!