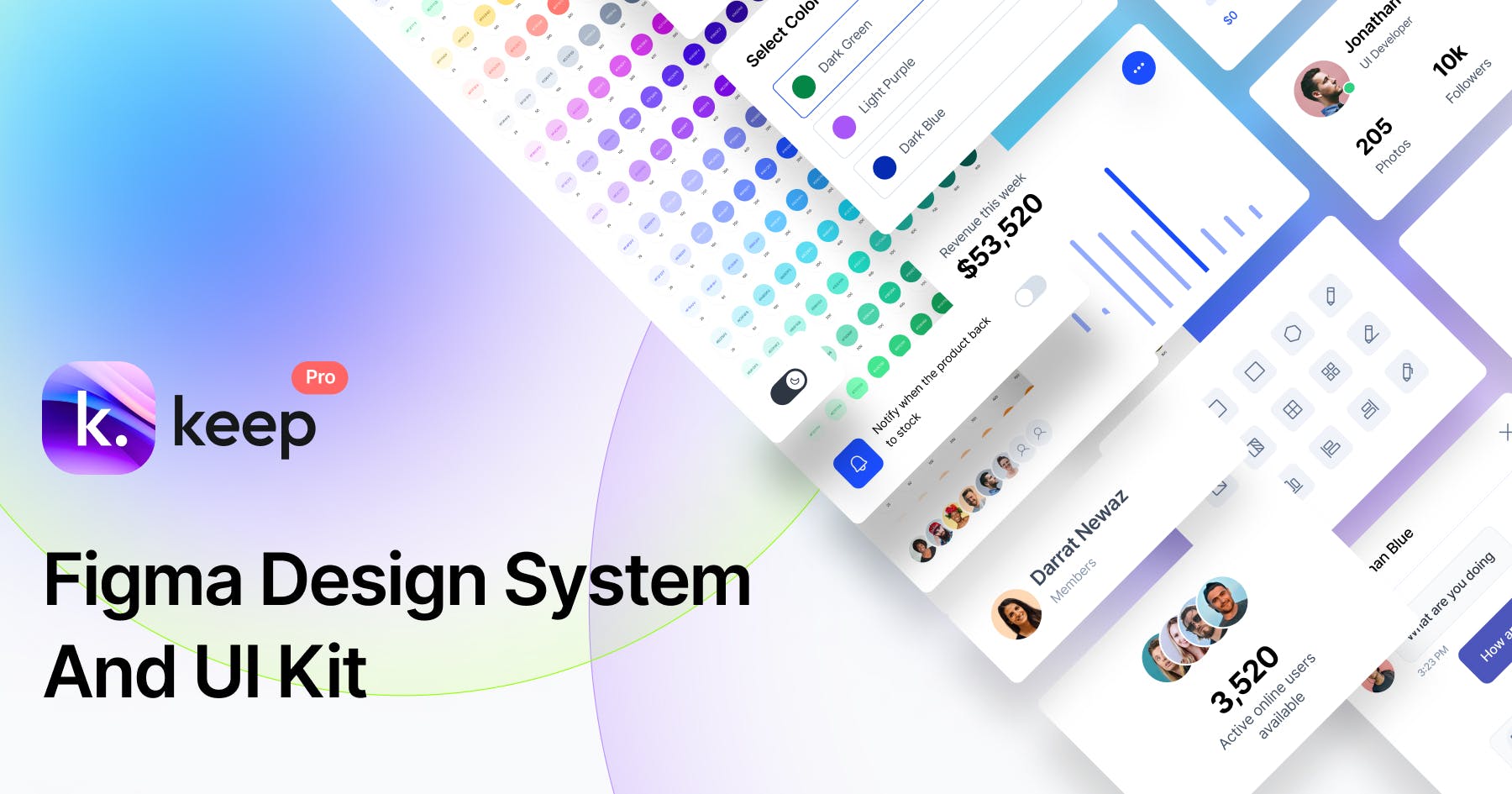 Keep- Figma Design System And UI Kit (Pro)
Nusrat Sarmin
August 20, 2023
Are you looking to level up your UI/UX design mastery to new heights? Then there's a piece of great news for you, Keep Design System has released its Pro Version. Needless to say, it is one of the most loved Figma Design Systems by the Figma Community.
Keep is designed to make designing with Figma easier and faster than ever before. Its user-friendly components dramatically reduce the time and effort needed to build out an interface. As well as providing a high degree of flexibility. With Keep, designers can quickly create beautiful designs that are both eye-catching and feature-rich. On top of that, the Pro Version of the Keep - Figma UI Kit and Design System takes it to the next level by providing highly demanded features.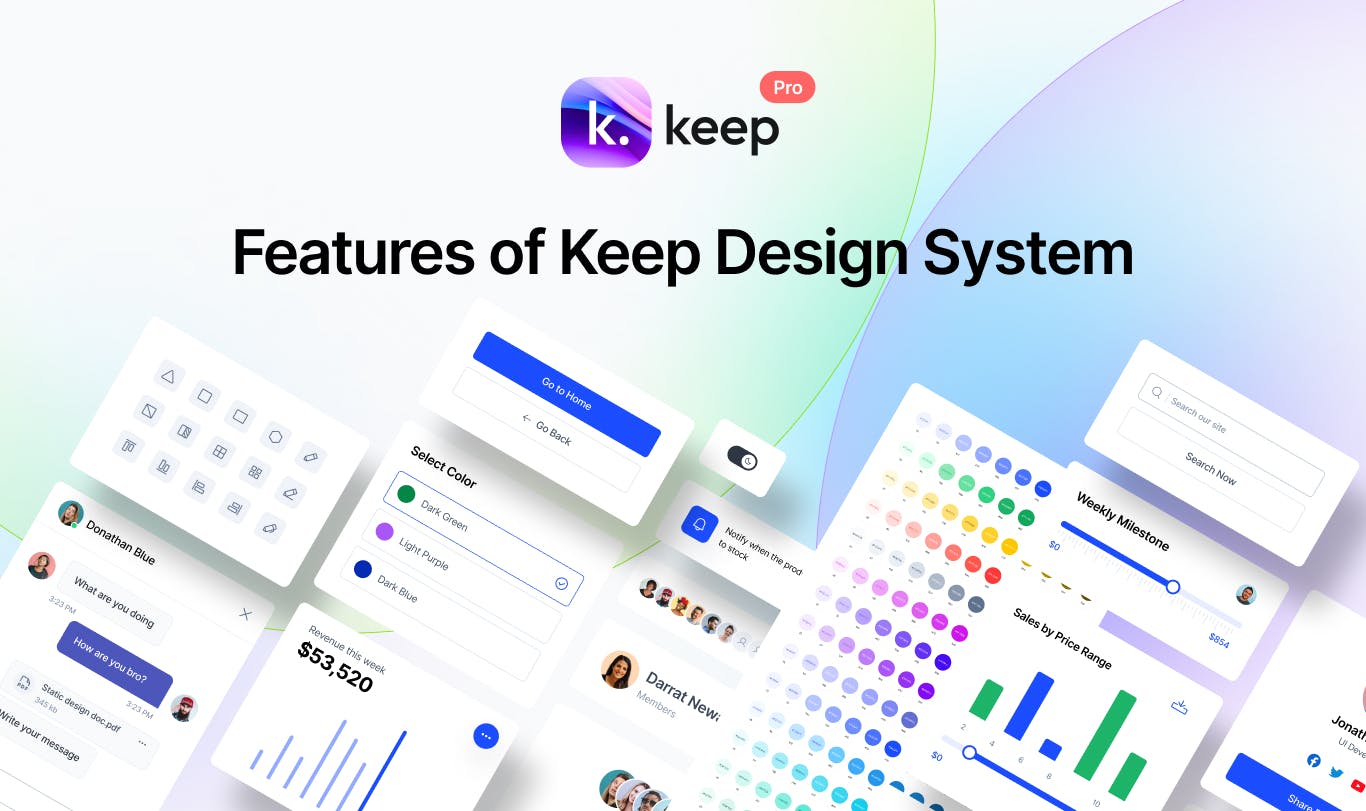 Let's explore the exclusive features of Keep UI Kit Pro:
The Keep Design System (Pro Version) is an advanced Figma Design System that provides users the means to produce the finest UI in no time. The Pro Version includes all of the features in the Keep Design System Free Version plus numerous cutting-edge features.
Five Ready-to-Go Templates for Web and Mobile Pages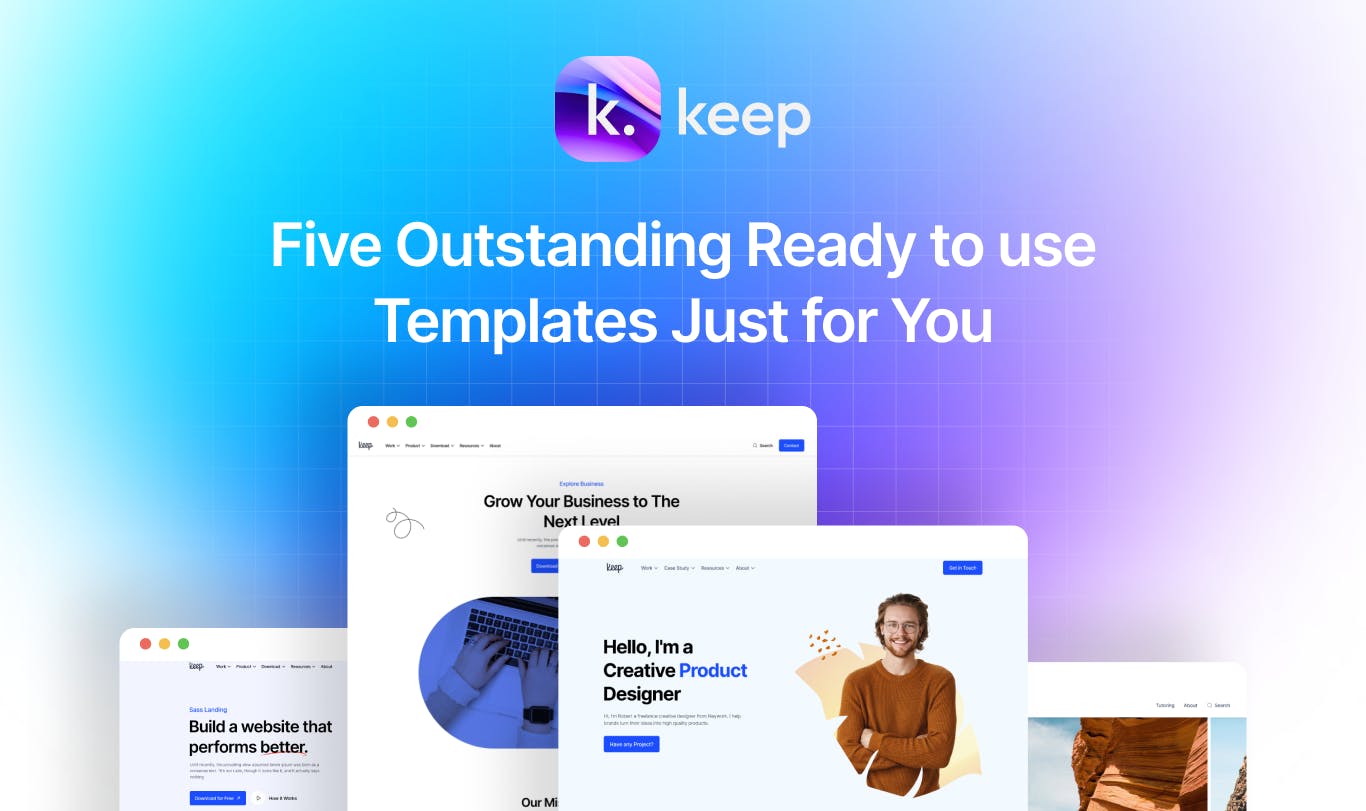 On the Figma platform, employing a ready-to-go template for web and mobile pages is a great way to keep your design harmonized. Page templates keep all design elements together, ensuring consistency across multiple platforms.
Keep Design System Pro aims to provide a strong, organized foundation for your projects. That's why it offers five exceptional templates designed to meet all of your design needs. Each template is meticulously crafted, offering professional designs and seamless customization options.
These templates were designed specifically for productivity and can be tailored to suit users' specific needs. Page templates ensure consistent designs for multiple projects. You can quickly create stunning designs for web applications, e-commerce platforms, mobile app interfaces, and more.
10,000+ Component Variants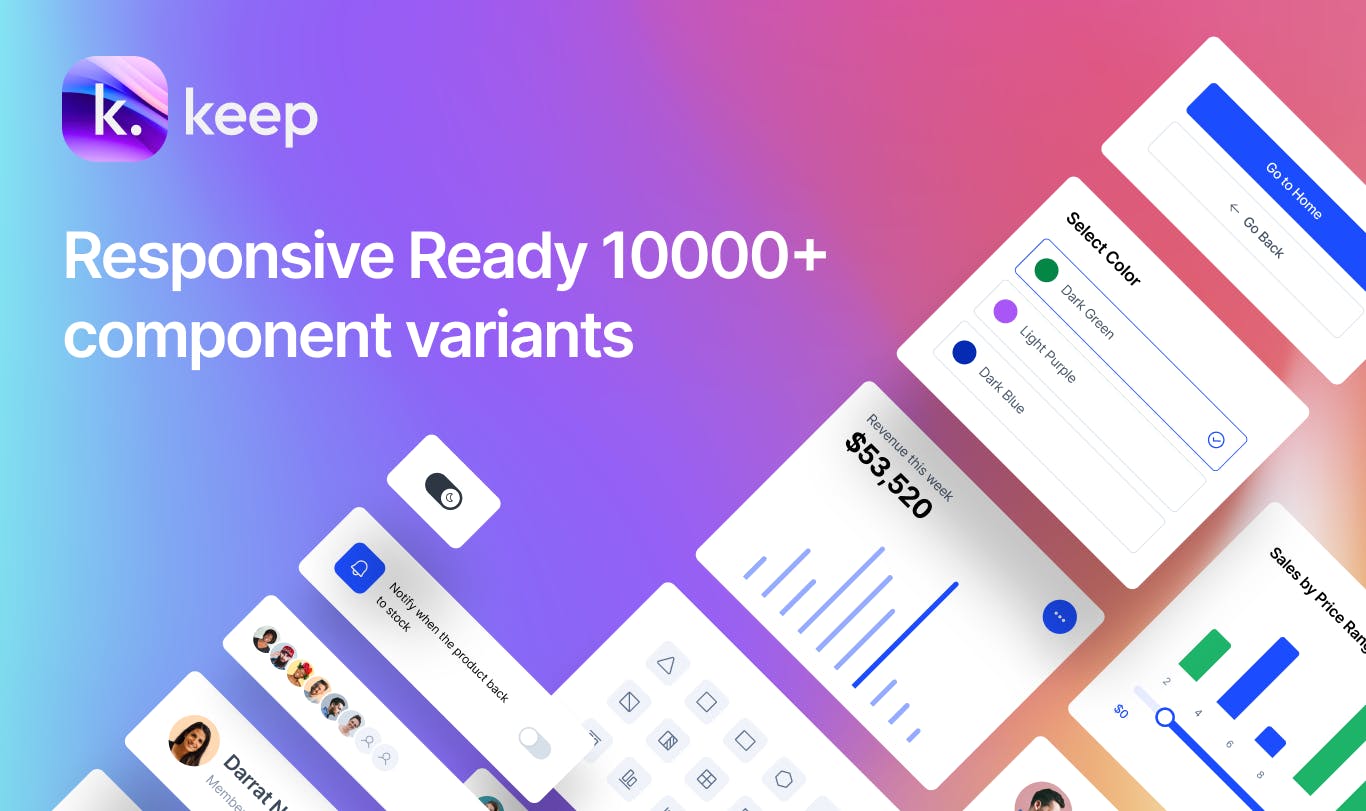 Figma's Keep UI Kit and Design System is an extremely powerful tool for designing user interfaces. With over 10,000+ component variants, it's one of the largest collections of UI elements available on the market today. This Figma UI kit provides a wide range of UI elements.  It includes basic ones like buttons and checkboxes, as well as more complex elements like dashboards, charts, and forms
The UI Kit contains everything needed to create modern, responsive web and mobile applications: popular logos, function icons, button styling, layouts, typography, colors, form elements, panels, cards, avatars, badges, dropdown menus, page layout, spinner, tag, and more. These elements make it easy to create a unified design look across different platforms.
Simply put, This UI kit provides a precious collection of pre-designed UI elements and a vast library of interconnected components. So you can create amazing apps, websites, or any digital masterpiece you can dream of!
Integrated Icons from Phosphor
The icons component in the Keep Design System includes a variety of icons sourced from the Phosphor icons library.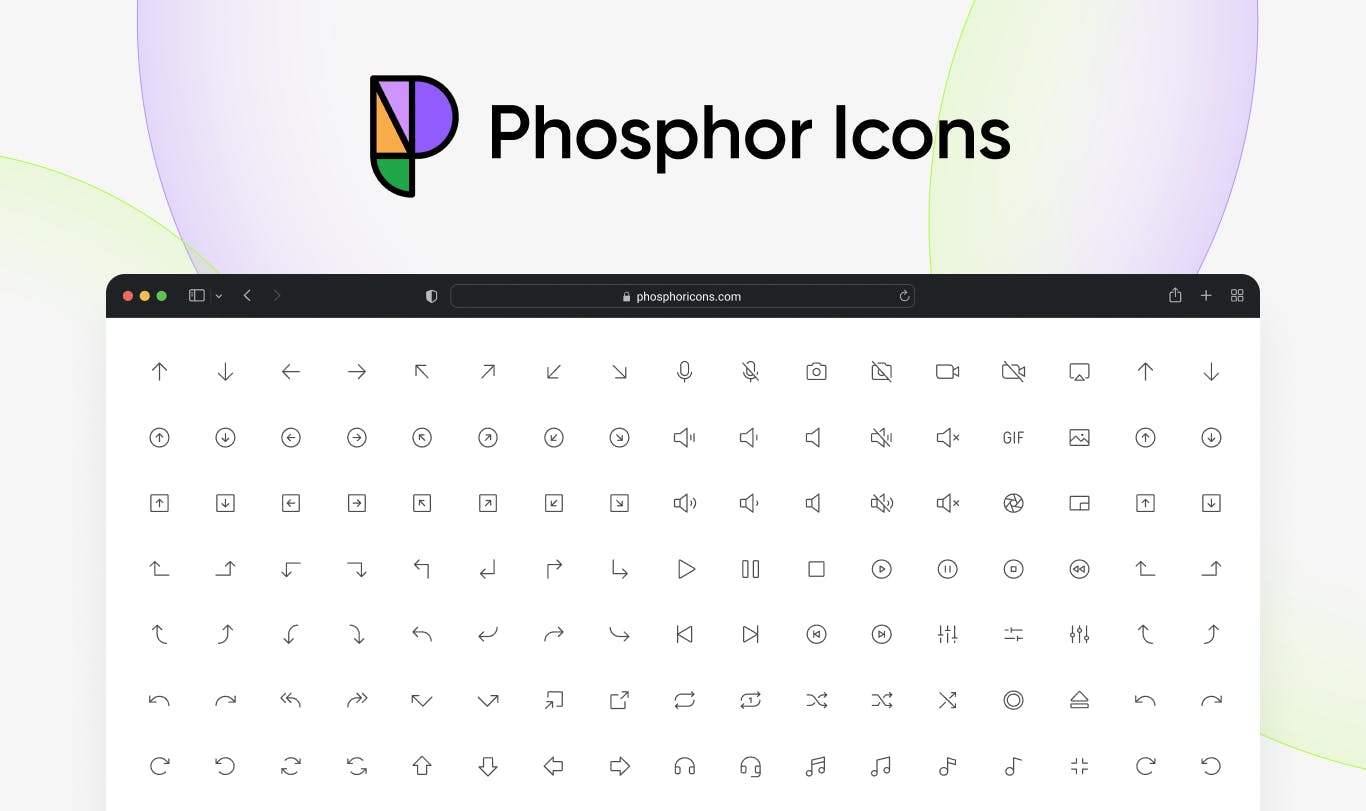 Experience the incredible impact of visual communication with these awe-inspiring icons, meticulously designed to enhance your product's functionality and transform the way you engage with your audience.
Anyway, the Phosphor icons library is an open-source icon set that is comprehensive and versatile, covering a variety of categories and use cases. The complete library can be accessed and explored through their website.
230+ Unique Blocks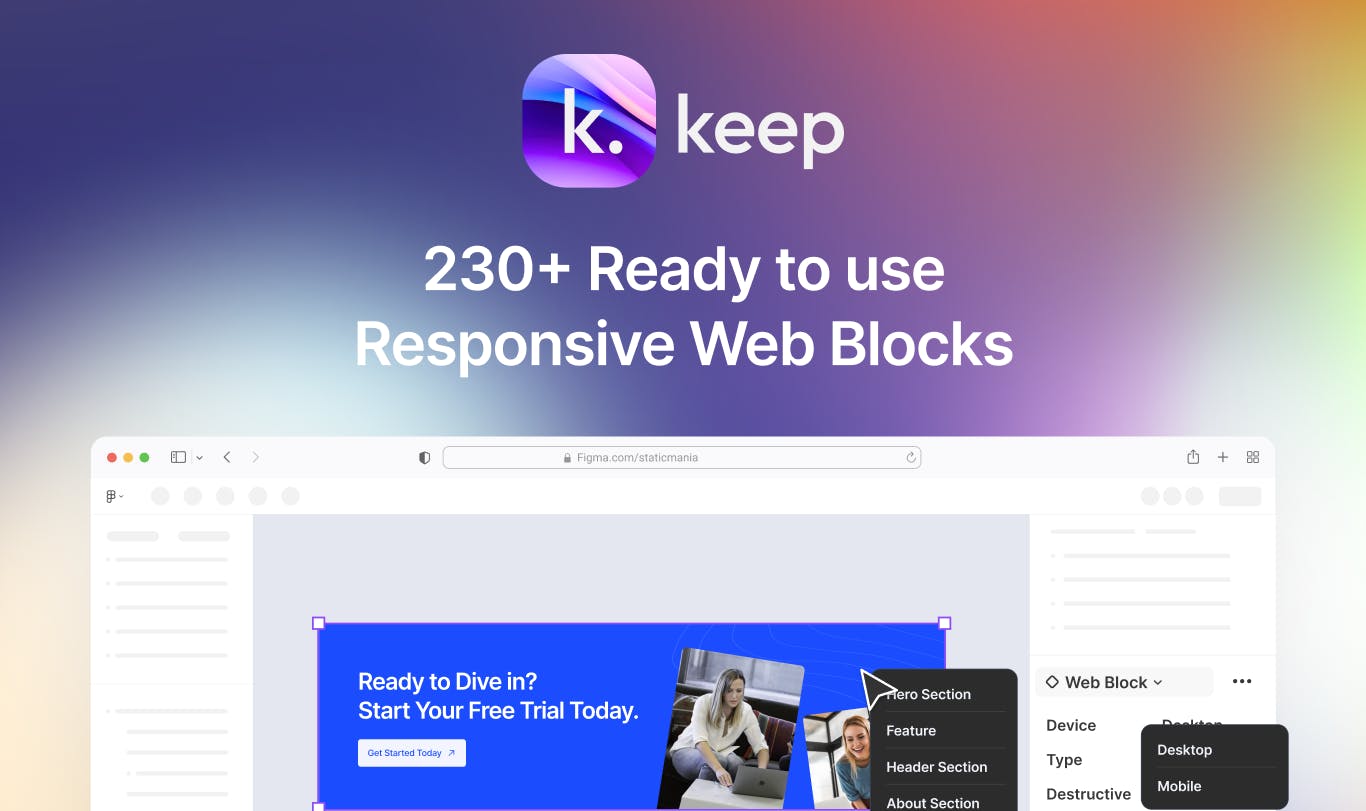 The Keep Figma Design System presents a comprehensive collection of over 230+ unique blocks to help speed up the design process, such as blocks for the header section, testimonial section, FAQ, team, blog, contact, nav bar, footer, etc. Each block has several forms. These handy design blocks are effective at creating complex layouts with ease.
Excellent Mobile Responsive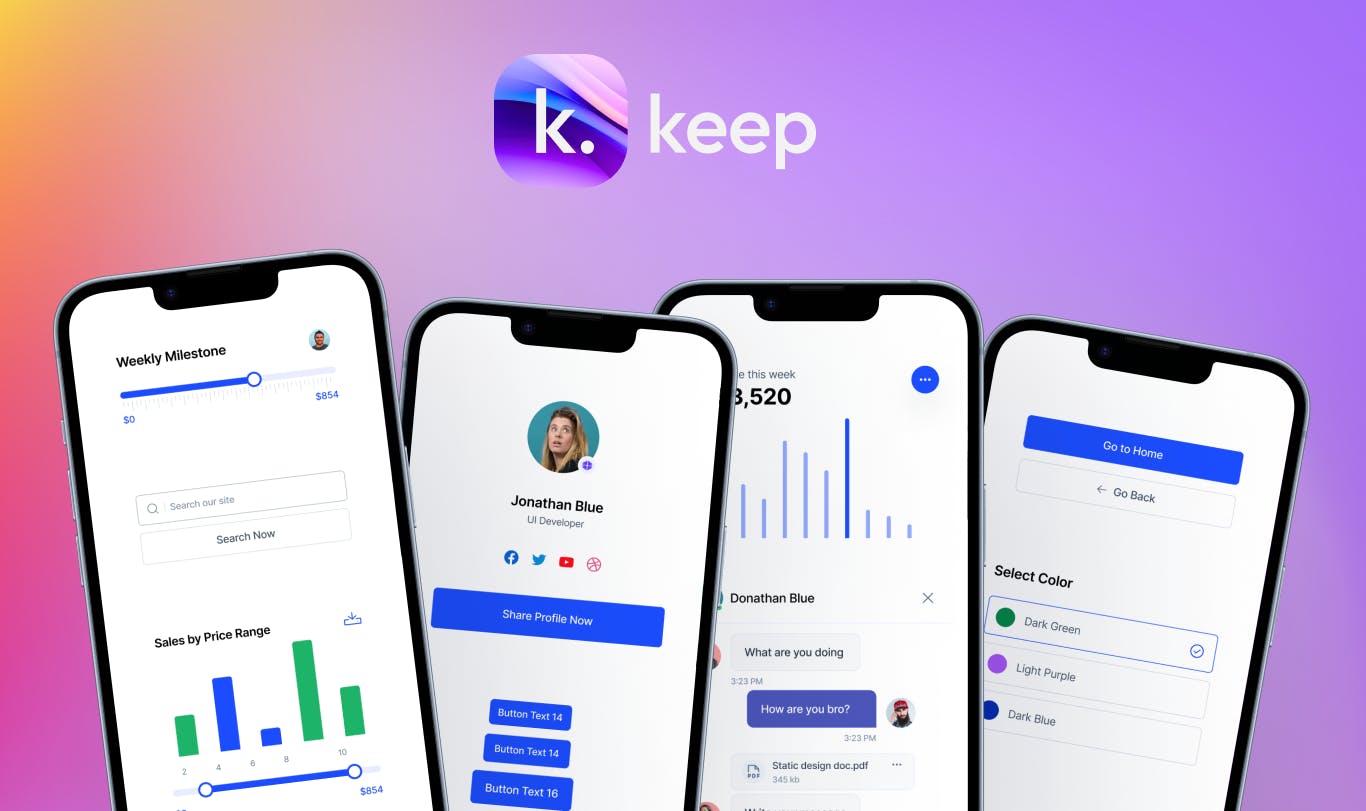 An excellent mobile responsive design is one of the most important elements of any user interface. The ability of a website or app to be viewed properly on different mobile devices is essential to ensuring a good user experience. A mobile responsive design also helps to improve SEO rankings and increase visibility in search engine results.
Keep UI Kit allows users to create mobile responsive designs. It includes hundreds of pre-built UI elements tailored for a variety of mobile devices, including iPhones, iPads, Android phones, and tablets. Yeah, you can provide a fluid user experience across all devices without a hitch.
Comparison of Free and Paid Versions
The pricing plan for the Keep Figma UI Kit and Design System is designed to be affordable and flexible. There are three tiers of pricing—free, Personal, and team—to suit the needs of any budget. The plan offers users lifetime access with no hidden costs. Pay once and Use it forever.
| Free | Pro | Team |
| --- | --- | --- |
| ✔️ Completely Free | ✔️ Only at $99 per Purchase | ✔️ Only at $249 per Purchase |
| ✔️ Basic Components & Variants | ✔️ All Components & Variants | ✔️ All Components & Variants |
| ✔️ Global Styles | ✔️ Global Styles | ✔️ Global Styles |
| ✔️ Personal License | ✔️ Commercial License | ✔️ Commercial License |
| ✔️ Single User | ✔️ Single User | ✔️ Up to 10 User |
| ❌ Ready-to-use Templates | ✔️ Ready-to-use Templates | ✔️ Ready-to-use Templates |
| ✔️ Lifetime Updates | ✔️ Lifetime Updates | ✔️ Lifetime Updates |
| ❌ Premium Support | ✔️ Premium Support | ✔️ Premium Support |
Why Choose the Keep Figma Design System and UI Kit?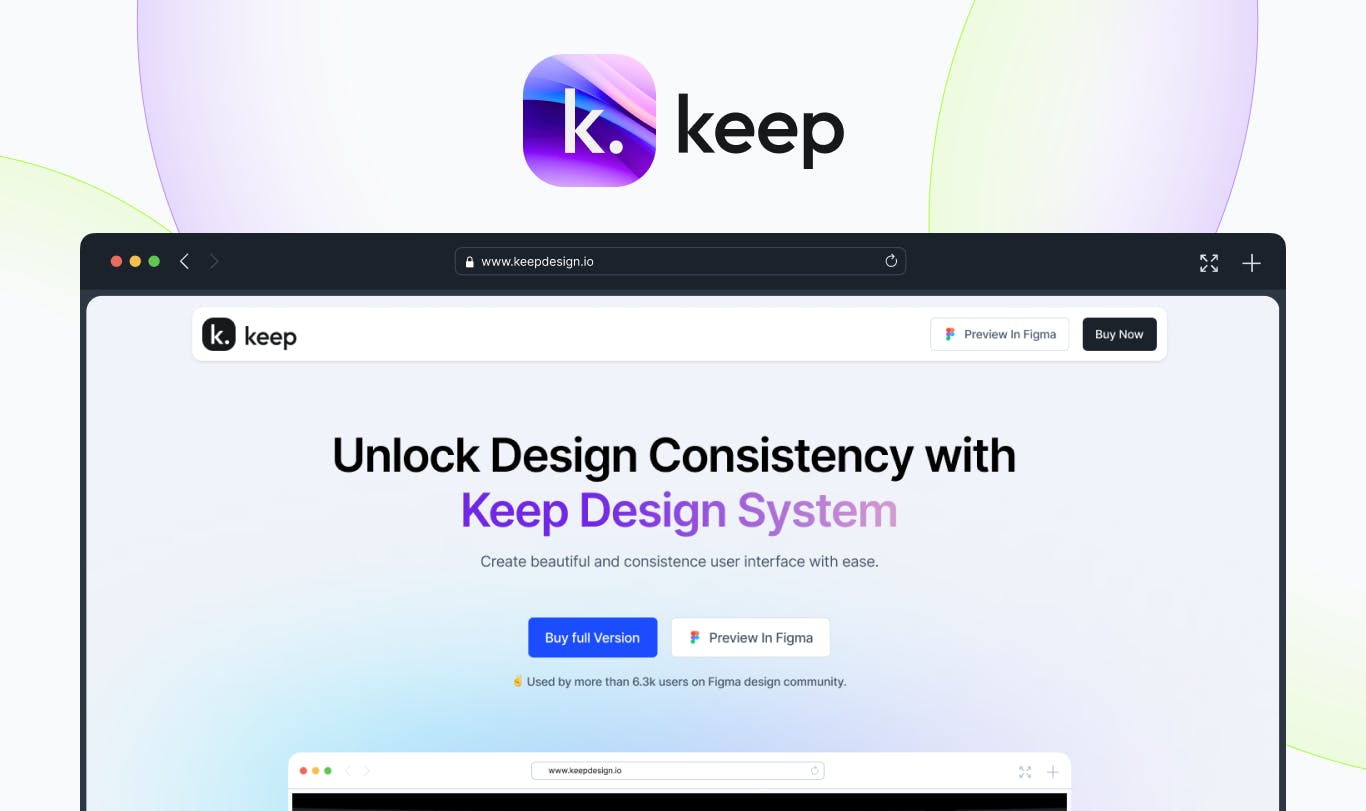 The Keep UI Kit is an all-inclusive Figma design system created to address the shortcomings of many popular UI kits. It is built to provide flexibility, scalability, and top quality in order to meet the demands of modern designers.
Its' range of features makes it the perfect tool to do a UI design project quickly and easily. It has adaptive components for different screen sizes, so your designs will look great on any device.
You'll also have access to comprehensive typography and color options, as well as collaboration tools that make commenting and revisions easier than ever before. Plus, you'll benefit from over 10,000+ dynamic components with smart variants that make creating stunning user interfaces a breeze.
The kit also includes a powerful Customizer tool that allows you to easily customize any design element, including colors, fonts, and spacing. This helps ensure that all designs adhere to brand guidelines while offering plenty of flexibility for creators looking to explore new creative possibilities.
Heads Up: React and Webflow Library Coming Soon
Here's some great news for React and Webflow developers. The Keep Figma Design System will bring Code Version in the very near future. 
Users can use the web blocks or design components from the Keep library on their Webflow or React projects.
Finally and Above All
The Keep Figma Design System is a great toolkit to use if you are looking for an easy way to create an awesome UI for your web or mobile applications.
Still confused about whether to buy this UI kit or not! No worries. Keep has a completely free plan with basic features and components. You can try it out before purchasing the pro plans.
On top of that, it also provides a money-back guarantee, making it useful for individuals interested in testing its capabilities. So start without delay, and let your creativity shine with the Keep UI Kit Pro!