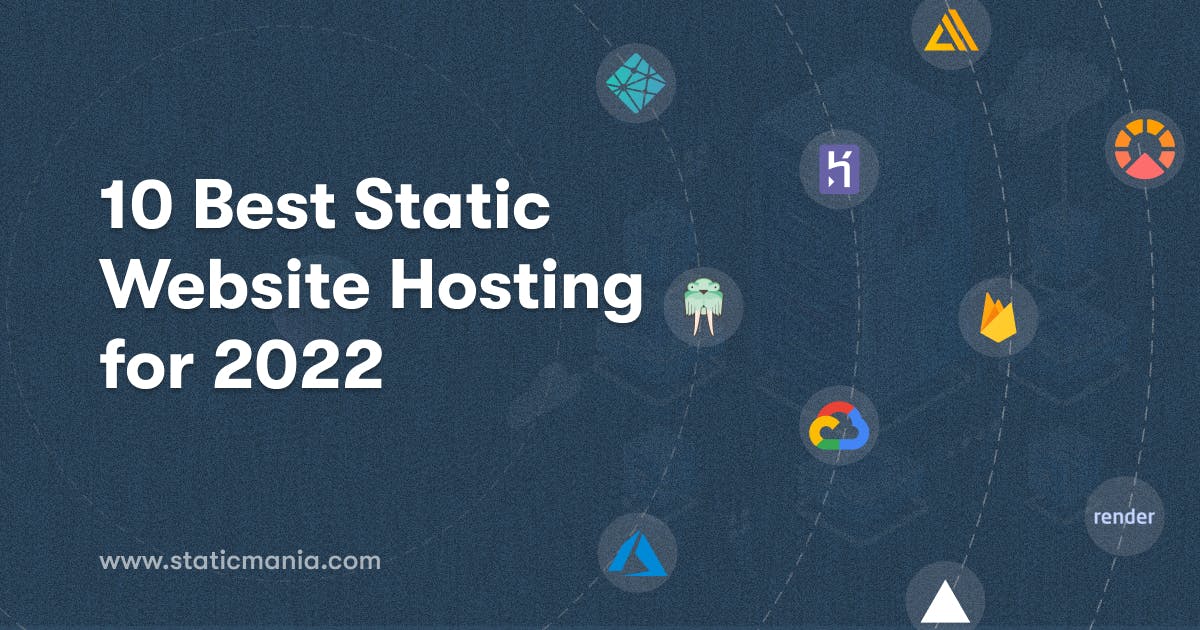 10 Best Static Website Hosting for 2022
Nusrat Sarmin
May 22, 2022
In the early ages of web development, the form of websites was static. With the evolvement of web technology, dynamic websites were later discovered due to the limitations of static websites. Dynamic website solutions provide a means to show dynamic content, personalized services, and lots of extra functionality based on users' needs. But at the same time, it reduces the simplicity and performance. At this point, today's modern static websites offer ultimate solutions in terms of performance, simplicity, security, scalability, SEO, operating costs, affordable hosting services, and so forth. 
Static websites consist of basic HTML, JavaScript, and CSS and require no database dependencies, frameworks, or plugins. And what's more open-source Static site generators and tailor-made platforms for hosting static websites make it easy to develop and launch high-performing static sites. All these blessings rapidly accelerate the popularity of static websites.
What is Static Web Hosting?
Static web hosting platforms are specially designed for serving pre-built HTML-based websites or JAMstack websites that are built with static site generators. Hosting solutions for Static Sites utilize the concept of serverless architecture. It is an execution model where the cloud provider is responsible for executing a piece of code by dynamically allocating the resources. 
A static web hosting platform provides a convenient way to host a static site efficiently with less effort and cost.
Highlights of Static Web Hosting Services
Ensure Blazing Fast Speed
Admiringly Cost-saving 
Highly Secure 
Rich User Experience 
Better Front-end Development Experience
Flexibility 
Holistic SEO 
On-Demand Scalability 
Simplified Hosting Experience 
And So On
Recommended Reading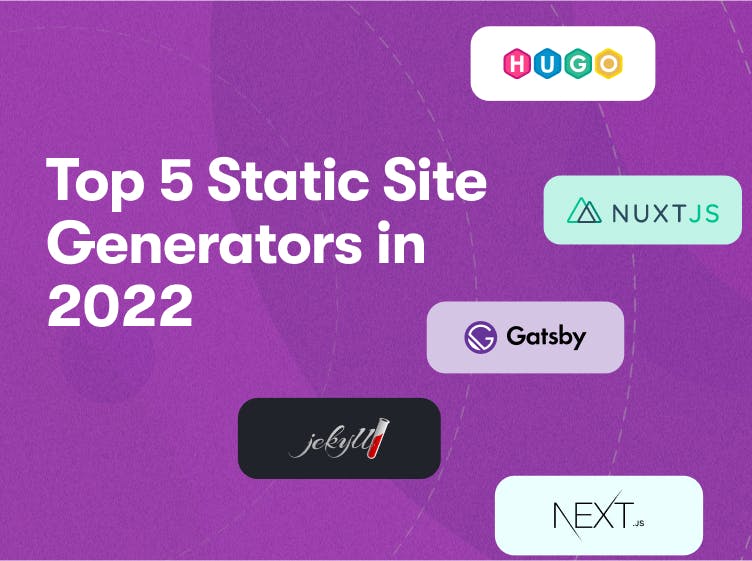 Top 5 Static Site Generators in 2022
Static sites are back again! Howbeit, today's static websites are not straightway static, they incorporate dynamic elements...
Read article
Here is a list of the Ten best Static Web Hosting Solutions in 2022:
AWS Amplify
Netlify
Vercel
Microsoft Azure
Google Cloud Platform
Firebase
Surge
Render
Heroku
Begin
Let's dive in... 
AWS Amplify
AMS Amplify provides a fully organized hosting service for building and deploying static web applications and sites. This cloud platform utilizes Amazon CloudFront and Amazon S3 to host static websites through AWS content delivery network.
Key Features:
Amplify offers an easier way to create secure authentication with a fully-managed user directory. Amplify Auth includes intuitive configuration, Pre-built UI components, fine-grained authorization, and authenticated user control.
 Amplify DataStore allows automatic data synchronization, Visual data modeling, and Offline data access. These aspects allow for the creation of real-time and offline apps quickly.
AWS Amplify's extensibility features give developers the flexibility to customize their AWS backend and deployment capabilities.
Amplify Storage offers a simple mechanism for managing content and app data. You can store resources in public, protected, or private storage modules in the cloud. 
Unlimited Cloud storage makes it easy to take your application from prototype to production.
Go to AWS Amplify
Netlify
A powerful serverless platform with an intuitive git-based workflow. Netlify provides secure, faster & scalable static web hosting by utilizing modern workflows, multi-cloud CDN, serverless architecture, and automatic CI/CD. Netlify is a perfect platform for hosting static websites, SPA, and specially JAMstack sites. 
Key Features:
Netlify Analytics provides insights on website visitors, sources, page views, etc.
Automatic continuous deploys from any Git repository hosted at Github, Gitlab, or Bitbucket.
Netlify offers a TLS certificate for automatic HTTPS. 
 Unlimited Storage & Unlimited Websites.
 Netlify supports many third-party applications and tools, including add-ons such as Analytics, Identity, Forms, and Fauna database.
Go to Netlify
Vercel
Cloud-based hosting solution for JAMStack and Static website. This all-in-one platform works with any type of web framework. With vertical, You can deploy an existing project from GitHub, GitLab, or BitBucket & make your site live. It's a perfect place for deploying any frontend app. 
Key Features:
Requires no additional configuration to deploy
Offers top-notch site performance, scalability & simplicity
Cost-effective global edge network of CDN servers
SSL encryption and custom domain name.
Supports both Edge Functions and Serverless Functions
Up to 100GB/month in bandwidth
Unlimited Websites & Deploys from Git
Go to Vercel
Microsoft Azure
Microsft Azure is a cloud platform for building, deploying and managing services and applications on its globally distributed content network. Its serverless architecture includes Azure Functions and other solutions including Infrastructure as a Service (IaaS), Platform as a Service (PaaS), and Software as a Service (SaaS) for hosting & serving Static Web Apps. Azure is a reliable, scalable, flexible, and affordable platform for cloud-based solutions.
Key Features:
Global hosting and automated content geo-distribution help to deliver content in the quickest possible time.
Azure Functions assist to enrich your app with integrated serverless APIs.
Features native GitHub workflows for CI/CD. Changes in the GitHub repository trigger builds and deployments hence you can go from code to cloud quickly. 
Supports major js frameworks such as React, Vue, Angular, Flutter, Ember Astro, etc.
Azure provides free service for hobby/personal projects.
Includes Visual Studio Code Extension for a tailored local development experience. It allows quickly create and manage Azure Static Web Apps 
Azure offers managed SQL relational databases as a service that saves up expenses on hardware & software.
Azure Active Directory Domain Services are Built on the same proven technology as Windows Active Directory that lets you remotely manage group policy, authentication, and everything else
With Azure, you get Microsoft's global infrastructure to provide safe, highly accessible data storage in a cost-effective pricing structure.
Go to Microsoft Azure
Google Cloud Platform
Google offers Cloud-based Storage for storing and accessing data in reliance on Google Cloud Platform infrastructure. Google Cloud Platform is in a class of its own. You can utilize GCS for hosting your static website. This platform is reliable for any type of business because of its unbeatable schemes concerning speed, scale, and security—all with AI built-in. 
Key Features
Object Lifecycle Management (OLM) rules are available to help protect your data and lower the total cost of ownership (TCO).
Google's multi-cloud solutions include a growing list of global data centers that makes it possible to optimize a website for quick response time and create a complete plan for disaster recovery.
It features object versioning that allows you to store object copies. Besides, you can define retention periods and hold an object to prevent it from deletion.
Cloud Key Management Service allows you to encrypt and store your object data through encryption keys.
Build on the same infrastructure as Google. hence you can take advantage of the same secure-by-design infrastructure, built-in protection, and global network that Google uses to protect its data centers.
Go to Google Cloud Storage (GCS)
Firebase Hosting
Firebase Hosting is backed by Google. Firebase Hosting assists developers by offering production-grade web content hosting solutions. You can deploy mobile & web apps as well as static & dynamic sites. It provides developers stacks of tools, infrastructure, and features to deploy & manage their websites & apps. It offers fast & quick delivery through Google's global CDNs. Additionally, in 2015 Google strengthened its static hosting capability by incorporating another free hosting space named DivShot.
Key features: 
With firebase hosting, you will get Google's SSD-powered infrastructure.
Using the Firebase CLI, You can quickly deploy your app or site with a single command.
Offers free SSL certification and custom domain with both free & paid packages. If you want increased bandwidth limits and storage capacity you've to upgrade to the paid version.
Firebase console facilitates users to go back to the previous version easily and see the version history.
Allows Automatic CI workflows or manually by command line.
Its features included built-in analytics, performance monitoring, crash reporting tools, databases, authentication, integration with development tools, and much more.
Go to Firebase Hosting
Surge
Surge is a production-quality web publishing platform for hosting & serving static sites and client-side apps. It is committed to helping out the Front-End Developers in the best ways to put HTML5 applications into production.
It allows to deploy static web projects using one single command via Grunt, NPM, and Gulp on a well-performing CDN. It particularly focuses to enhance the developer experience. It integrates with many different development platforms and publishing tools to make itself a DevDependencies.
Key Features: 
For every project, Surge provides support for a free custom domain, Free SSL, pushState for single-page apps, Custom 404.html pages, easy deployment through the CLI, Cross-Origin Resource Sharing, and so forth.
Easy installation using node & npm. Everything can be configured via the command line.
Surge integrates with the build tools & plugins like Grunt, NPM, Gulp, Git hooks, Jekyll, Static Site Generators, and node.js. 
Surge incorporates continuous integration services like Travis CI, CircleCI, Codeship, and more for automatic deployment
Surge features top security, strong password protection & great uptime.
Allows adding collaborators & unlimited team members right through the CLI.
Go to Surge
Render
Render provides the fastest & most cost-saving platform for hosting web apps and static sites. It aims to make itself a 'Zero DevOps platform'. It avails developers of all the required tools and functionality they need to host & run their web apps. You can deploy your website on a super-fast global CDN directly from GitLab or GitHub repository. 
Key Features:
Unified cloud to deploy not only static sites but also for running various Web Services, Background Workers, Cron Jobs, Dockerfiles, Private Services, PostgreSQL database management system, Redis caches and data stores, and so on.
It saves up your money. Static sites are free on Render and require no cost up to 100 GB bandwidth a month. After exceeding the free limit, it costs $0.10 / GB in a month.
Supports instant cache invalidation which makes your updates load ultra-fast, so when you update your site you can see changes instantly 
Offer Automatics CI/CD from Git 
Free TLS certificates
DDoS protection
Automatic Brotli compression for faster sites.
Unlimited custom domains & automatic redirects from HTTP to HTTPS 
Allows to add unlimited collaborators and teams for free
Go to Render
Heroku
Heroku presents a simple solution for hosting any website or app. Heroku's fully-managed platform as a service enables you to deploy, manage, monitor, scale and deliver your apps effortlessly. It is built on container technology, with integrated data services and a powerful ecosystem. 
 Heroku is integrated with today's most popular developer tools and workflows to allow developers to focus on an app-centric approach to software delivery.
Key Features
Officially supported languages are Node.js, Ruby, Java, PHP, Python, Go, Scala, and Clojure. besides, you can use any language with the help of third-party buildpacks.
An intuitive web-based Dashboard to manage apps and enhance performance
Heroku's Buildpacks determine & automate the build processes for an apps
Support Continuous Integration (CI) systems to deploy directly from popular tools like Git, GitHub
Heroku Elements such as Add-ons, Buttons, and Buildpacks offer easily-integrated technical solutions that support every stage of app development and operation
Heroku OpEx or Heroku Operational Experience component helps in maintaining application health and providing an optimal experience for your end-users.
Go to Heroku
Begin
A cloud function-based platform as a service. One of the world's most advanced cloud techs for hosting web apps and APIs. Begin is open-source at its core. Its serverless architecture makes it easy to deploy web applications, APIs, or sites. It supports static websites using CloudFront as CDN. 
Key Features:
Begin leverages next-gen cloud platform technologies – like globally available serverless infra, SSD-backed databases, and integrated CDNs
Requires no configuration, you can start deploying within seconds. 
Features Super fast CI, instantaneous deployment
Native AWS Lambda-based compute, SSD-backed databases, and static asset delivery via CDN all make it highly scalable.
Begin Serverless HTTP functions handle server-side rendering & dynamic responses.
Superfast & extremely available Global CDN with over 200 performance-tuned points-of-presence around the world
Apps built in Begin are highly debuggable and baked in a fully isolated staging environment 
Leverages world-class DynamoDB database service that supports fully managed key-value and document data structures.
Begin event functions incredibly perform the Background tasks like analytics or talking to external APIs) & Begin scheduled functions perform automating background processes.
Go to Begin
Recap - Hosting Solutions for SSG (Static Site Generators)
The above-mentioned static web hosting services are leading the market and gaining popularity for their usability. Each one has its unique benefits and challenges. you should explore in-depth before getting on board with any of these static web hosting services. Choose based on your business needs, budget, security strength, serviceability, accessibility, and overall performance.
Let's make a great and simplified journey of building your next Static website by coupling SSG Static Sites with a reliable static web hosting platform.