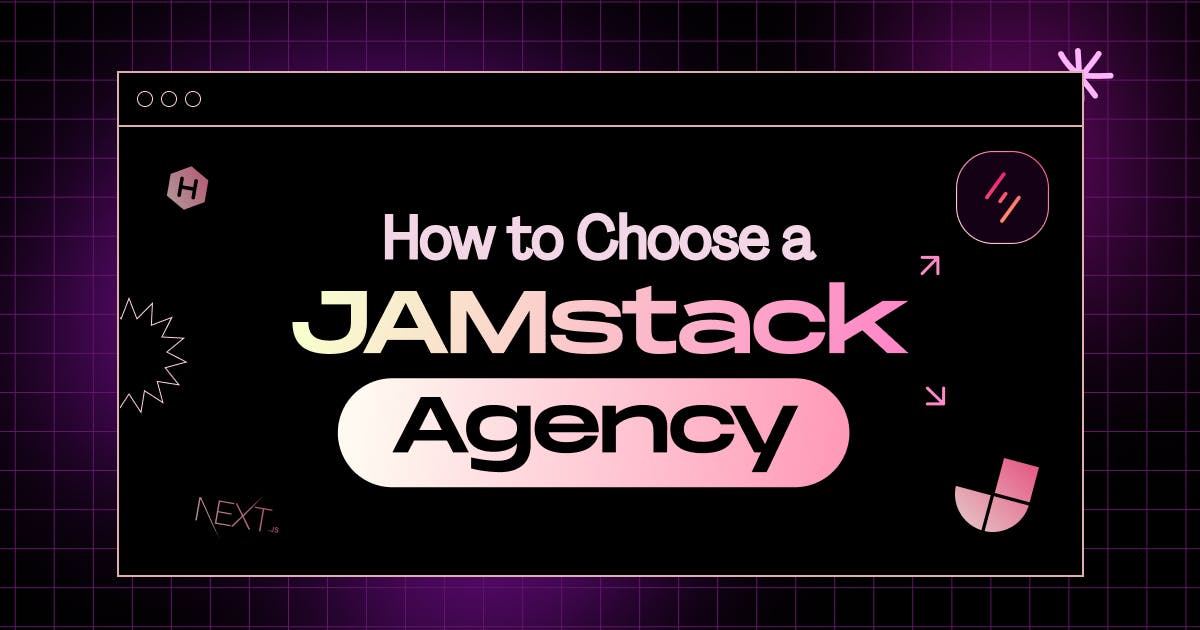 How to Choose a JAMstack Agency
Nusrat Sarmin
June 03, 2023
The Jamstack has become increasingly popular over the last few years, especially among developers and tech-based businesses. The popularity of Jamstack is likely to continue to grow in the coming years as it offers a modern, secure, and efficient way to create powerful web applications.
With Jamstack, developers can create faster, more scalable, and more reliable web applications and websites with less effort and cost than traditional web development approaches.
More and more businesses are shifting to Jamstack-based solutions to stay ahead of competitors. Suppose you're looking to create powerful web applications for your business or organization. In that case, the first job is to hire a Jamstack agency to achieve the best service and outcomes for your business. 
But with so many different Jamstack agencies, choosing the right one for your project can be difficult.  When selecting a Jamstack agency, it's important to consider the specific needs of your project and a few important factors. 
This article will discuss how to choose a Jamstack agency for you by exploring their features, the cost of their services, and the advantages of working with them.
Why Choosing a Top Jamstack Agency for Your Business Is Important?
A Jamstack agency is a web development company specializing in creating websites using the Jamstack architecture.
Choosing a top Jamstack agency for your business is important. Because it will provide you with an experienced team of developers and designers who understand the specific needs of your project.
A top Jamstack agency will also be familiar with the latest trends in web development and can provide secure, cost-effective solutions. Additionally, they will offer comprehensive support services such as website optimization and maintenance, ensuring your website runs smoothly and efficiently.
Needless to say, a reputable Jamstack agency can provide you with a scalable solution to handle large volumes of traffic without slowing down. Eventually, working with a top Jamstack agency can ensure that your website is modern, reliable, and optimized for maximum performance. 
Choosing a top Jamstack agency for your business can offer several benefits, such as:
✅ Extensive Expertise and Experience
✅ Faster Time-to-Market
✅ Quality Assurance
✅ Cost-effectiveness
✅ Flexibility and Agility
What Difficulties Arise in Selecting a Jamstack Agency? 
Choosing a Jamstack agency can be challenging, especially for those unfamiliar with the technology. With so many available options and an evolving landscape, it can be difficult to know where to begin.
Here are some of the challenges potential Jamstack agency clients may face when looking to hire a Jamstack agency, including:
👉🏼 Lack of Understanding:
Clients new to Jamstack may have a distorted view of the technology and its potential benefits. This can make communicating their demands and expectations to a Jamstack agency difficult.
👉🏼 Limited Pool of Talent:
Jamstack is a relatively new technology; therefore, this field has a small pool of experts. This can make finding the correct agency or developer for your undertaking difficult.
👉🏼 Budget Constraints:
Budget matters when choosing an agency. Limited budgets can make hiring a Jamstack agency difficult. Prioritizing requirements may help fit within the budget. You've to find an agency that delivers high-quality results within your budget.
👉🏼 Integration with Existing Systems:
Clients may have existing systems or architectures that they need to integrate with a Jamstack solution. This can be challenging and may require additional expertise or resources.
👉🏼 Communication and Collaboration:
Communication and collaboration are critical when working with a Jamstack agency. You need to find an agency that communicates effectively and collaborates with your team to ensure your project is delivered on time and meets your requirements. 
👉🏼 Time Constraints:
Clients may have tight project deadlines, impacting their ability to find and hire a Jamstack agency. Jamstack development can be faster than traditional web development but still requires time and resources to ensure a high-quality product.
These are just a few challenges when selecting a Jamstack agency. Ultimately, you'll need to research and ensure the agency is a good fit for your project.
How to Choose a Jamstack Agency?
Here are some tips to help you choose the right Jamstack agency for your needs:
1. Set Clear Business Goals and Needs
Before you start looking for a Jamstack agency, it is important to understand your specific requirements and goals. Be clear about your project's needs. This will help ensure your selected agency is well-equipped to meet your demand and deliver the desired outcomes.
When setting these goals and needs, consider the following:
💡 What type of project do you need to be completed? Is it a website, app, or other service?
💡 What features do you need to be included in the project?
💡 What is the timeline for the completion of the project?
💡 What is your budget for the project?
💡 Is there any existing code or data that needs to be integrated into the project?
💡 Research different types of development frameworks that could be used to make sure that you get the best results from your project.
2. Check Out Different Jamstack Agencies 
Once you understand your needs better, it's time to start researching different agencies that offer Jamstack services. 
When finding a Jamstack agency to work with, shopping around and comparing different options is important. You should investigate the different agencies and compare their services, expertise, pricing, past projects, and customer support.
3. Check Their Portfolio
The best way to understand the capabilities of the different Jamstack agencies is to look at their portfolio. 
Explore their portfolio and keep an eye out for any projects with specific features or structures similar to what you're looking for in your project. This will give you a better idea of the agency's capabilities and whether or not they are the right fit for your needs.
4. Look for Case Studies, Reviews, and Testimonials
Take the time to research case studies, evaluations, and testimonials from prior clients to ensure you choose the correct firm for your project. A good agency will have numerous success stories and be able to provide references from delighted consumers.
Most importantly, case studies can show how the agency approaches projects and their results.
5. Check Their Pricing
When hiring a Jamstack agency, know its pricing structure. Some offer flat rates, while others have hourly rates. Consider development time and hidden costs.
Always ask for a detailed list of all fees and expenses before signing any agreement. 
However, don't base your decision solely on price, as quality is more important than cost.
6. Take Time to Test the Agency
Before committing to a Jamstack agency, it is important to take the time to test their capabilities. Ask for a sample of their work or request them to create a small prototype that showcases their skills and how they approach development. This will give you an idea of how they build your project, the technologies they use, and any potential issues.
7. Arrange Pre-meeting and Review Contracts
Once you have chosen an agency, schedule a pre-meeting and reevaluate contracts. Discuss project goals, timeline, budget, and technologies. The agency will explain its approach and processes. Review the contract before signing to ensure everyone understands their responsibilities.
Why StaticMania Is The Best Jamstack Agency?
StaticMania is leading a Jamstack agency specializing in building modern web applications and websites using Jamstack architecture. It ensures quality services and has a team of experienced professionals who are experts in the latest Jamstack technologies. 
StaticMania has been around since 2020 and has built up a strong reputation as an experienced and trusted provider of Jamstack solutions. With StaticMania, you'll have a pleasant journey with a young talented developer and designer team.
Here are some reasons why StaticMania is the best choice for your Jamstack needs:
👍 Experience and Expertise
StaticMania has a team of experienced developers and designers skilled in various Jamstack technologies, static site generators, front-end framework such as React, Gatsby, Next.js, and Netlify. They have worked on projects for various industries, including e-commerce, AI-powered software, marketing agencies,  education, and more. See StaticMania's Work 
👍 Quality:
One of the key reasons why StaticMania may be considered one of the best Jamstack agencies is their focus on delivering high-quality services and products.  StaticMania's team of experienced developers uses the latest technologies to create high-quality web applications that are fast, secure, and reliable.
👍 Cost-Effective 
StaticMania offers competitive rates and packages that can fit any budget. Additionally, they offer flexible payment options to help you get the best value for your money.
👍 Proven Track Record of Success
They have a strong reputation and a track record of delivering high-quality projects. StaticMania's portfolio ensures that your project is in the hands of experienced professionals who understand the intricacies of working with Jamstack and can deliver on your objectives.
👍 Support 
StaticMania provides comprehensive support to ensure that your project is successful. They offer 24/7 technical support and a variety of resources to help you get the most out of your Jamstack solution. They also provide ongoing maintenance and support to ensure their client's websites function optimally.
👍 Scalable, Flexible, and Secure Solution: 
StaticMania's solutions are designed to be scalable, flexible, and secure. You can easily add new features or increase capacity as your business grows. They use the modern principles and best practices to keep your site safe and secure. 
👍 Wide Range of Services:
They offer various services, such as design, development, SEO, marketing content creation, hosting, and maintenance, so you can get everything you need for your project in one place.
👍 Focus on Client Satisfaction 
StaticMania also has a strong commitment to client satisfaction and communication. They work closely with their clients throughout the project to ensure their requirements and the final product meet their expectations. 
👍 Skillful Communication
StaticMania believes communication is key in any project; we set a communication tone that aligns with yours and keeps you updated throughout the project.
Last Thoughts
Choosing a Jamstack agency to work with can be a daunting task, but if you take the time to do your research and consider all of the factors above, you can find an agency that suits your needs and budget. With a little bit of digging and some careful consideration, you will be able to make an informed decision.
I hope this article provides all the information for the "How to Choose a Jamstack Agency" query. Let's discover your perfect Jamstack agency match with these top-secret insider tips!
Manage Forms on Jamstack Website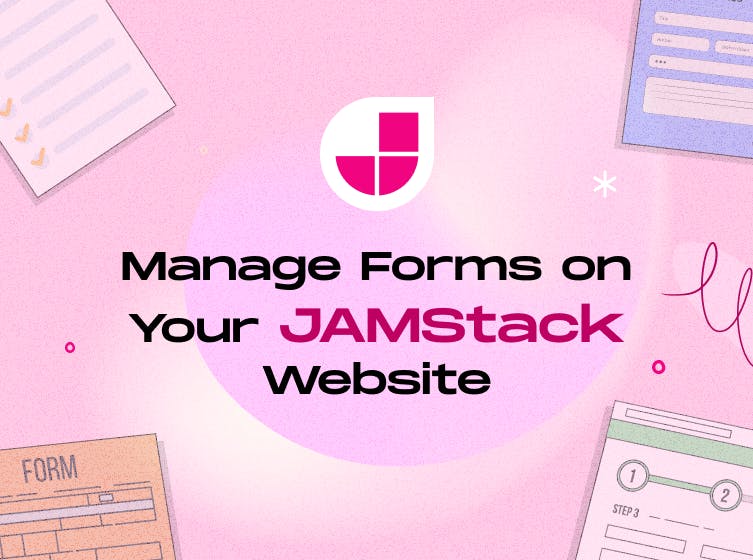 How Should You Manage Forms on JAMStack Website?
Handling forms on a Jamstack website involves a slightly different approach compared to traditional server-rendered websites. The Jamstack philosophy encourages decoupling the frontend and backend, which can impact how forms are handled.
Read article