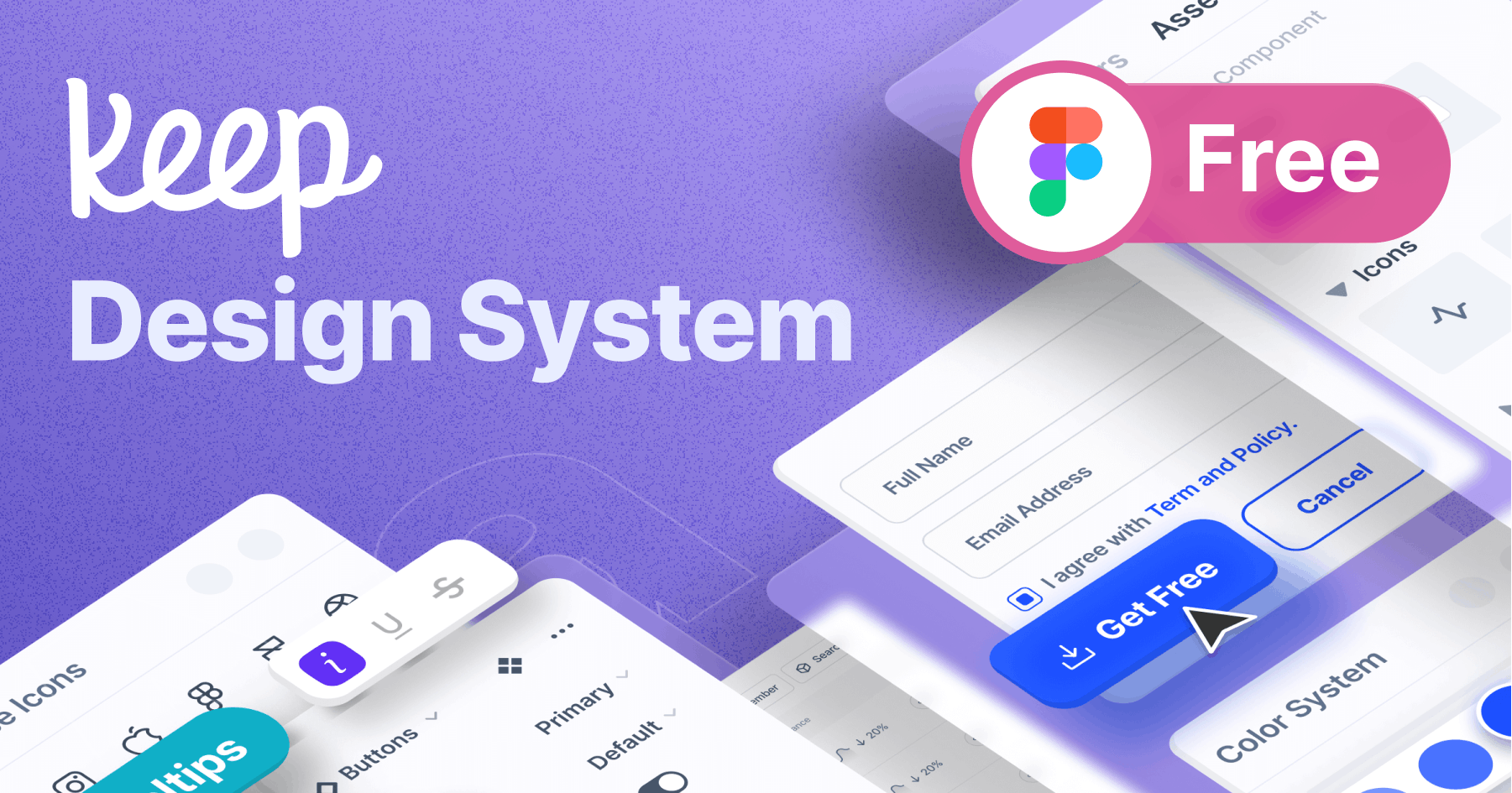 Keep- Free Figma UI Kit and Design System
Nusrat Sarmin
March 09, 2023
Figma is a fantastic tool for UX/UI designers. It helps, like Aladdin's lamp, when it comes with a meticulously crafted design system. An inspiring Figma UI kit and design system makes you more creative, and you get the power to design like a pro...
There are hundreds of Figma UI kits, but all of these are not competent enough to aid you with your design endeavors. 
The Keep Design System is one of the highest-quality Figma UI kits. It's a well-built design system with all the powerful features available in Figma.
This blog will dive deep into the Keep UI Kit and Design System. Let's explore...
Key Features of Keep Design System & UI Kit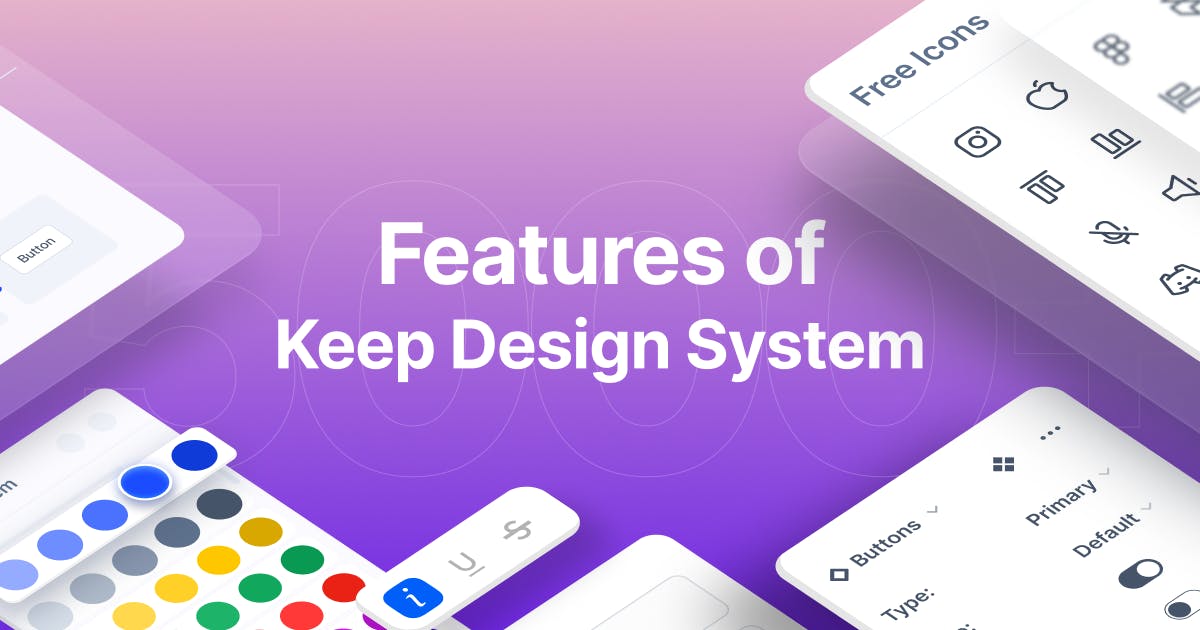 Keep Design System presents you with the most comprehensive UI kit and ready-to-use components. With it, you can jumpstart any UX/UI design project, streamline your workflow, and elevate your design skills to a new height.
5000+ UI Components & Variants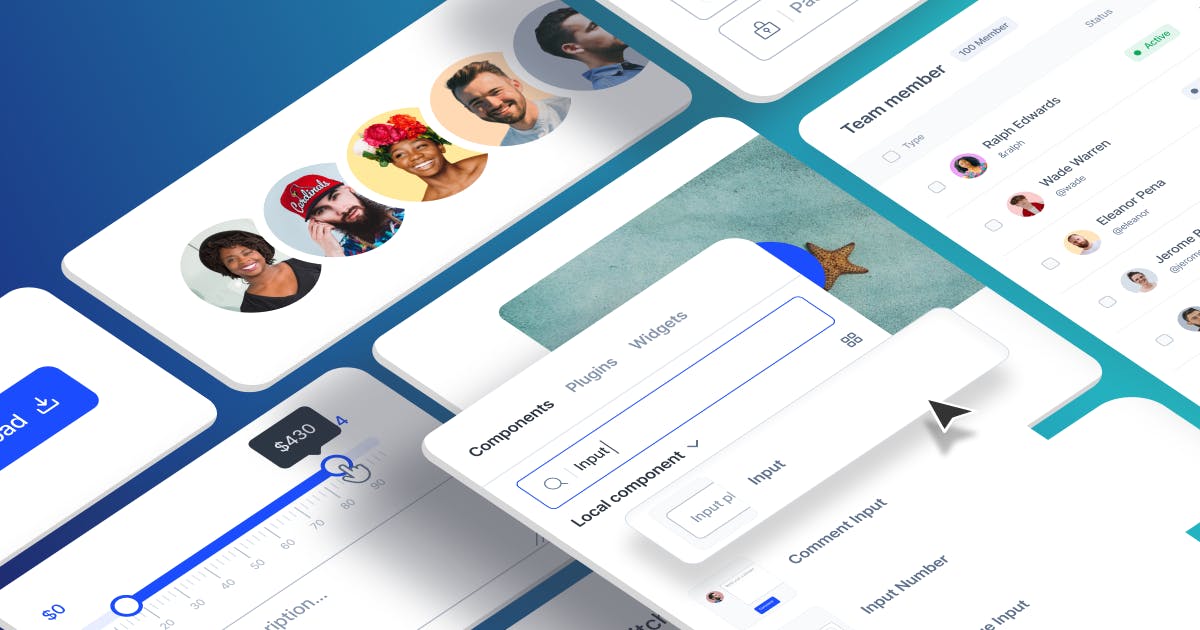 You will get a vast array of UI elements with multiple variations with this Figma UI kit. Starting from fundamental ones such as buttons and checkboxes to advanced elements, dashboards, and forms.
It offers premade UI elements and a library of connected components and styles to craft perfectly shaped desktop & mobile apps, software UI, websites, or any digital products. 
1500+ Usable Icons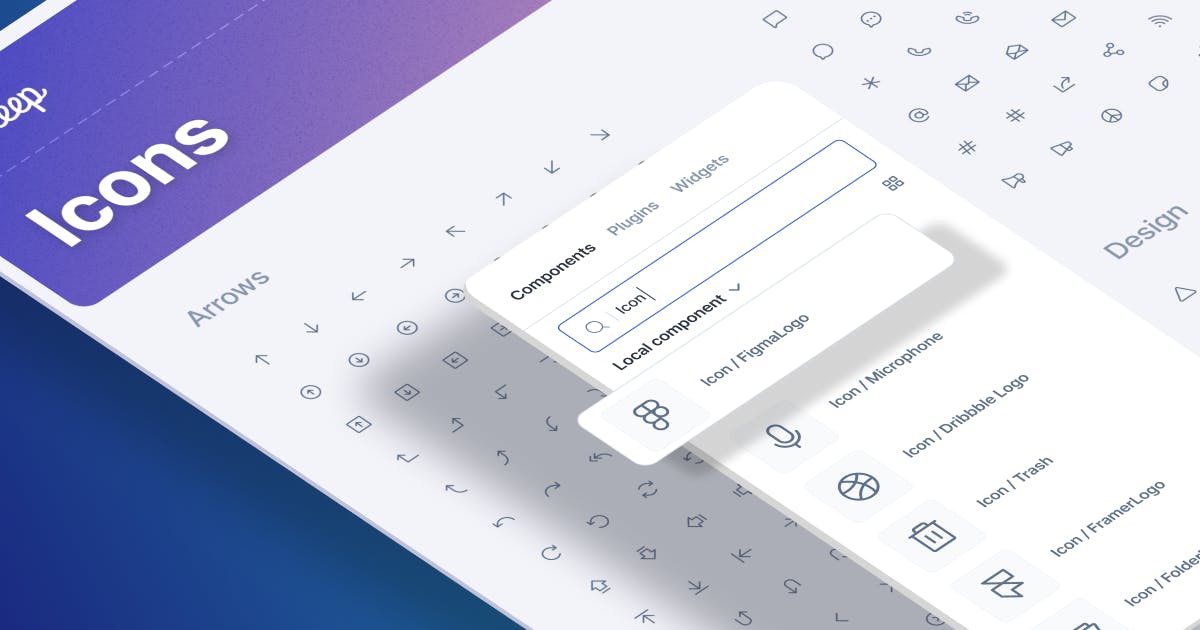 The kit includes intuitive and trending function icon packs. It makes adding function icons like social icons, buttons, and forms to your design easy. These icons are designed with the latest Figma guidelines in mind, so they're up-to-date and look great. 
Smart Auto Layout System 3.0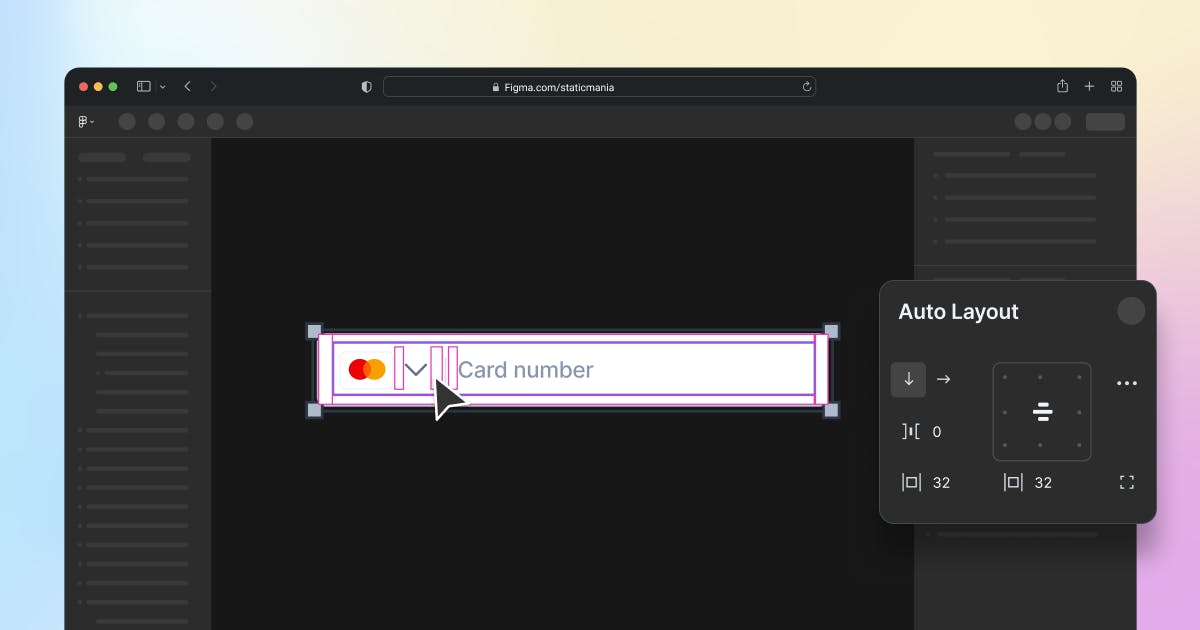 Keep offers Smart Layout System 3.0. It is a powerful property that lets you create designs that respond flexibly to changing conditions. With Auto Layout, frames and components become dynamic and endlessly adjustable!
Components or frames expand to fill or shrink to fit, allowing designs to scale and reflow as their contents change. 
All elements on the design canvas can be aligned automatically. Make room for new layers, lengthy text strings, or adjustments to the overall alignment as the design evolves. Hence, it saves time and keeps the design organized.
Excellent Pagination Design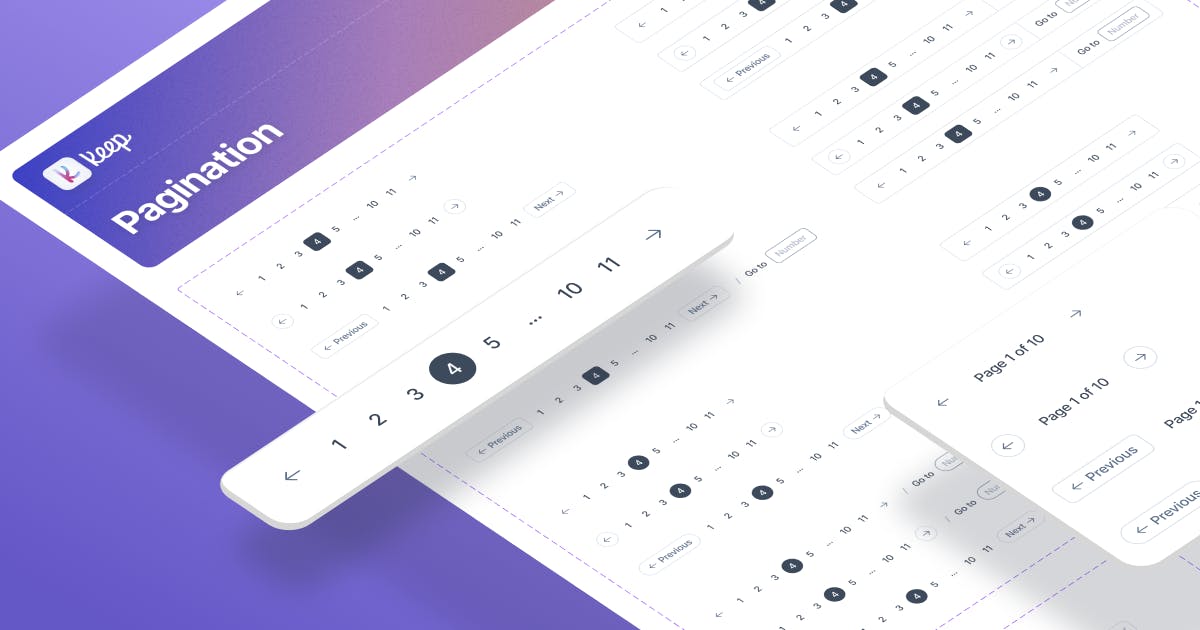 Super-smart pagination format makes navigating from one page to another easy. Pagination components are designed with Auto Layout 3.0, multiple variants, and accessibility considerations.
Popular Brand Logos and Icons
You will get vector versions of famous brand logos and icons. Symbols, colors, and fonts are carefully crafted. These small, scalable, and editable logos and icons provide you with an infinite amount of freedom in terms of customization.
Easy-to-Use Functionality
A simple, intuitive, easy-to-navigate, and fully scalable design system. Keep UI kit not only presents you with a pack of everything you need to design modern and beautiful UI but is also easy to use. Production-ready components, super-smart variants, and mix-and-match features allow you to customize interfaces in seconds.
Become a Better Designer Using Keep Design System
Keep using Figma's most advanced features to enhance your design capabilities and skills. Keep UI provides the tools & super-smart color, typography, and effects styles to increase the efficiency of your design workflow. It lets you finish projects quicker, handle more clients, and focus on crucial tasks. If you want to update your brand tone, you can modify the style of the entire library with a single click.
Keep Design System includes ready-made components and customizable templates that enable you to quickly build out your designs within Figma. It also provides detailed design specifications for each element so you know exactly how it should look and behave in your application.
This Figma UI kit makes design enthusiasts more productive and speedy. Ready, set, create! Everything you need to get those creative juices flowing is right here.
Why Keep Is the Best Figma UI Kit?
With the rise of digital products and software, the need for a cohesive design system is becoming increasingly important. Keep UI Kit is an excellent Figma library that provides an extensive set of components and styles to help you quickly build beautiful user interfaces.
Keep UI Kit beats its competitors regarding flexibility, scalability, and accessibility. It provides unparalleled flexibility and scalability, allowing designers to tailor their designs to the exact specifications of their projects. It allows you to preview your designs in real-time and experiment with different styles, color palettes, and font sizes. 
You will get everything you need in one place to design mobile apps, software UI, websites, or any digital products.
Keep UI Kit also has plenty of helpful resources, like tutorials and documentation, to ensure you understand everything about the library before using it. 
So, if you're looking for a powerful Figma library that will take your designs to the next level, the Keep UI kit is a perfect choice.
How to Download Free Keep Design System
You can download the Keep UI Kit for Figma in a few clicks and start using it in your design instantly.
Step 1: Log in to Figma and navigate to the Figma Community. 
Step 2: Search "Keep Design System" using the search bar
Step 3: You will SEE "UI Kits" on the search result page
Step 3: Now click on "Get & Copy" buttons 
Step 4: Explore your design.
Design & UI Kit Components
Colors
Typography 
Icon
Button 
Shadow 
Avatar
Checkbox
Switch 
Input
Badges 
Tooltips
Slider
Pagination 
Modals
Navigation 
Table
Messaging 
so on and so forth...
Users Say about Keep Design System and UI Kit for Figma
It's skyrocketing in popularity since it hit the scene! used and loved by thousands of users in a few days. Users have praised the Keep Design System and UI Kit for Figma. Users find the design system incredibly easy to use, and it enables them to create stunning user interfaces with minimal effort.
What About our Pro Version?
The Pro Version will come with exclusive & innovative features. The team behind it is continually working on updates to cope with the latest trends.
Ending
Designing a UI requires a lot of hard work to plan visual assets and ensure consistency. The Keep Design System has been built to save up your time and effort. This Figma UI kit is a perfect starting point for any kind of design project.
A significant number of ready-to-use components, styles, templates, and resources are within your grasp. It speeds up your design process and allows you to spend more time shaping your vision. It even enables designers to experiment with different color palettes, font sizes, and layouts without having to start from scratch each time.
The Keep UI Kit has covered everything you need for your design journey - Create confidently and stay on top of your design game…