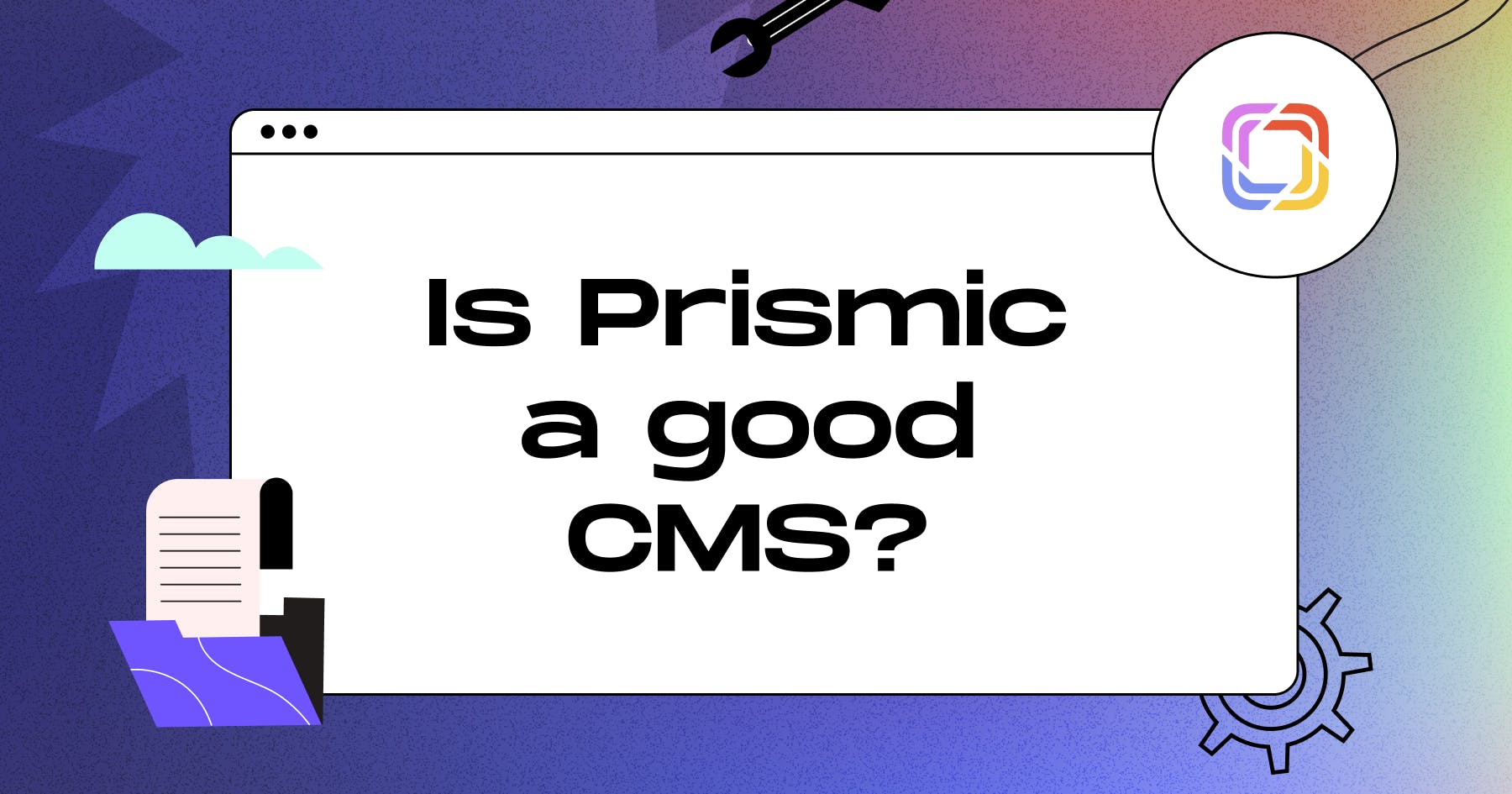 Prismic Reviews with Details
Nusrat Sarmin
February 01, 2023
JAMStack has been reviving old-fashioned static web development in a new way with its powerful wings. One of the most integral parts of the JAMStack web architecture is its headless CMS. Fortunately, there are several great options out there when it comes to choosing the best CMS for your website. If you are pursuing the best headless CMS, you can try out Prismic CMS for a seamless solution. 
Prismic is one of the most widespread headless CMS, especially for JAMStack-based sites & apps.
What is Prismic CMS?
Prismic is a headless content management system that lets developers and content creators build websites faster. 
It provides an intuitive user interface for creating and managing content and powerful APIs for delivering it to your website or app. Since it is a backend-only CMS, it allows you to deliver your content via an API straight to where you need it. No matter which tools and technology you have selected to build your front end.
The API-first approach makes it ideal for building cutting-edge websites and applications. It is a perfect fit to work with JAMStack static sites.
Simply put, Prismic is a content management system (CMS) that helps you create, manage, and deliver content to any device or platform.

About Prismic CMS
Established in 2013, Prismic is a technology-driven business focused on "developing a sustainable organization." Its core concern is supporting individuals and organizations to grow their businesses online.
Its HQ is in Paris, France, and it is distributed across 18 countries. 
This SaaS-based headless CMS is used by prestigious companies, Google, Deliveroo, Rakuten, Dribble, Veriff, eBay, Ford, and StaticMania. 
Prismic.io's market share is 0.04%, with more than 4158 companies using this software. Source: Dataanyze.
Key Features of Prismic.io
Prismic CMS offers a wide range of features and tools to fulfill all the requirements for launching an optimized website with a headless website builder.
All the editorial features are available in the admin dashboard. Such as live and shareable previews, dynamic layouts, full revision history, collaborative editing, capabilities, version control, and scheduled publishing. Multi-language, and internationalization help to reach people across the world.
It provides simple & built-in localization and custom controls without heavy plugins.
Other benefits include editable fields for SEO management, social sharing images, analyticsFull-Text Search, Customizable Templates, and more.
User-Friendly Interface
It provides an intuitive dashboard interface for creating and managing content. Decent and optimal design layouts serve a pleasant editing experience. Content editors can manage everything very conveniently. 
The admin panel has three main sections: "Documents," "Custom Types," and "Media Management." You can narrow down the document list using the fields "Type" and "Authors." You can also categorize the content. For instance, "Work" for current projects, "Planned" for future content, and "Archived" for renounced content.
Rich Text Editor
The rich text editor makes it easy to add formatting options such as bolding or italics to your content without having to write HTML code.
Image Management
Prismic CMS offers an image management feature that allows you to upload images directly from your computer or a URL link. Images are stored in the cloud for easy access when needed.
Built-in Image Optimization
Images are compressed and optimized on the fly using Prismic's built-in Imgix integration. So, you can save time when building your website or improving performance and SEO.
Prismic's built-in imgix integration allows the rendering of optimized images. imgix compresses and optimizes images on-the-fly, turning them into dynamic, responsive images that you can deliver to any device under any conditions.
Flexible Content Modeling
Prismic.io provides a flexible content modeling system that allows users to define custom data structures for their content. This makes it easy to create complex data models with multiple fields and relationships between them.
Compatible with Every Technology
Prismic supports almost all popular web development technologies and frameworks. Developers can make use of various source development kits that make it possible to use various programming languages like C#, Ruby, Java, and more in addition to javascript. You can choose your favorite tech stack or integrate Prismic CMS with your existing platforms.
Easy Integration Fields
Prismic's Integration Fields allow you to integrate third-party services easily and quickly. For example, you can pull data from e-commerce catalogs or custom APIs- into your repository.
First, you have to set up an Integration Fields API in your repository settings. Then it will let you integrate data from an external API with your content. 
There are three ways you can integrate a third-party data source using integration fields:
Pull data from a custom read API
Push data from a custom-write API
Automatically sync with a Shopify catalog
Analytics & Insights
Prismic.io provides analytics and insights into how users are interacting with their content. Allowing them to make informed decisions about optimizing their content strategy.
Support
Prismic offers Developer documentation and user guides. These well-documented guidelines benefit developers and users making it easy to start building with Prismic headless CMS.
Prismic is a proprietary CMS, and it has no open-source community. Prismic has an official forum that is very active and united thousands of passionate developers and marketers.
Prismic Open RFC processes and live-streamed product meetups provide you with product strategy, new features, early prototypes, and more.
Component-Driven
Prismic introduces the feature "Slices". Prismic Slice Machine allows reusable coding components for page builders. These components are known as Slice. The slice machines automatically define the data models for slices. Once ready, Developers can deliver slices for the content team, and they can use it for custom page builders. Marketers and content teams get the freedom to build custom pages independently.
Pricing Plan
Prismic headless CMS offers a range of pricing plans to suit different needs. 
Prismic crafted its pricing structures to support developers and businesses of all sizes with the required features to grow over time.
Six different plans available start at 0$ and go up to the Platinum tier for 575$. You Can subscribe for monthly or Annual billing. Monthly plans work best for short-term users or beginners, or individual developers. Annual plans work better for users who are confident they'll be using the service for a year or longer. 
Additionally, the free plan is suitable for small websites or a small team of developers. This plan provides basic features such as content management, media library, analytics, 100 GB of Built-in CDN, etc. 
The paid plans offer more features such as custom domains, unlimited storage, and advanced analytics support. There is also an Enterprise plan which offers additional features such as priority support, custom integrations, SSO, Custom training sessions, etc.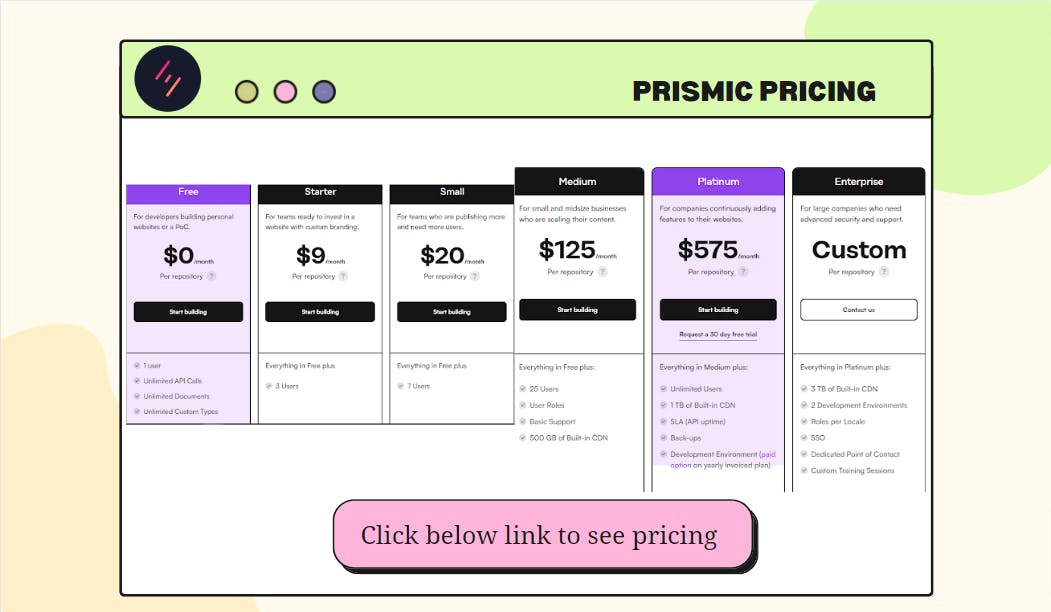 See here the Prismic Pricing Table
Is Prismic a Good CMS?
Prismic headless CMS has been designed to empower both developers and marketers. Provides a foundation to work collaboratively and independently. 
With Prismic, content management is efficient, fast, and fully customizable. The content editing app offers you the opportunity to craft, modify and publish your content for websites, mobile apps, web apps, native apps, IoT devices, or e-commerce stores. Its Content API delivers whatever you need to effectively spread it out.
Using Prismic.io teams of developers and marketers can build websites and apps quickly while front-end developers are able to tweak any component using any tech stack.
Pros & Cons Of Prismic CMS
Pros of Prismic CMS
User-friendly, Fast, and Flexible way to manage content 
Manageable Scheduling, Live previews & content versioning
Easy Integration Fields for third-party services
Efficient SDKs and starter kits to Boost developer workflow
Integrates with all the major Jamstack frameworks. 
Native integrations with popular e-commerce platforms such as Shopify and Magento
Provides the ability to implement custom API adapters for unsupported 3rd parties
Omnichannel marketing to reach customers across all channels
Hosted, Zero infrastructure maintenance, Prismic takes care of hosting in the cloud
Very well-written documentation
Dedicated support team and Community Forum
Offer a generous free tier
Cons of Prismic CMS
One of the main cons of Prismic is its cost. While it does offer a free plan, this plan has limited features and storage capacity. The paid plans can become quite expensive depending on the size of your website and the number of users you have.
Another con is that Prismic does not offer any support for customizing or extending its features. If you need additional functionality or customization options, you will need to find an external developer to help you with this task. This can add extra costs to your project.
FAQs About Prismic CMS
Q: What languages does Prismic support in their product?
Prismic supports a wide range of programming languages in their product including HTML, CSS such as C#, Ruby, Java, JavaScript, and TypeScript. 
Q: What other applications or services does Prismic integrate with?
Prismic Integration Fields are available for integrating third-party services, and e-commerce platforms like Shopify. Prismic offers integrations with popular frameworks such as Angular and Vue.js. Additionally, they provide support for GraphQL and REST APIs. 
Q: Is Prismic headless?
Yes, Prismic is a headless website builder. 
Q: Is Prismic free? 
Yes, Prismic offers a free plan. Also, it has six types of pricing plans offering different levels of advantages & support. 
Q: Which types of users and organizations do Prismic work with?
Prismic works with a wide range of users and organizations, from small businesses to large enterprises.
So What?
Prismic is more than a headless CMS - hosting, security, customer support, image optimization,  reusable slices, etc. Make it a reliable and efficient platform for building remarkable websites. 
Prismic does all the hard work to stand out from the crowd. It presents all the essential tools for both developers and content managers. 
Prismic is future-proof. If your business changes, Prismic allows you to redesign your website without having to migrate to a new system. Businesses can enjoy optimal performance and organic growth. 
Note: Heads Up! All the information mentioned in this article is based on the date of publishing, so be sure to check back regularly for updates.
Recommended Reading
Sanity.io - The Most Popular Headless CMS
In this review, we'll take a closer look at what makes Sanity CMS stand out from the competition and evaluate its features and capabilities.
Read article
Recommended Reading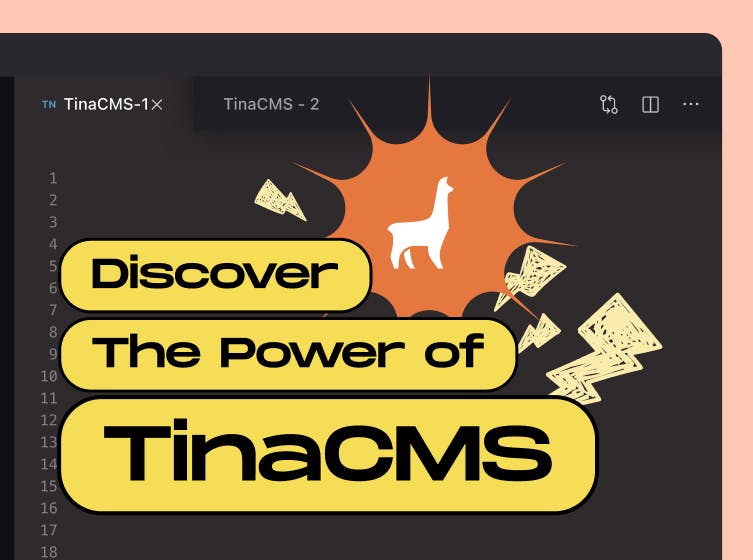 Discover the Power of Tina CMS
Tina CMS is an excellent open-source content management system (CMS) and development toolkit for creating static websites. It offers an intuitive way to manage web content
Read article